One Good Tern Deserves...
The Rye Harbour Nature Reserve is on the south coast on England in Sussex. This is the flat, northern shore of the English Channel and an area which gets strong waves and currents that move about the naturally occurring mounds of ocean-smoothed stone. The English call these rock mounds and dunes "shingle" and the habitat is often desert-like: wind-blown, sun-baked on warm days, the rain quickly soaking through the rocks. Few plants find a way to live here. The cabbage-like sea-kale with its broad leathery blue-green leaves has roots that can go up to thirty feet down for moisture.
The tallest point on this reserve is the man-made Martello Tower near the north entrance. This round tower was built as one of a line along the English southern coast during the Napoleonic Wars nearly 200 years ago. We saw some of these towers along the Irish coast south of Dublin last year. This one is badly eroded, its stone walls covered by ivy and sprouting brush that puts roots into the many crevices in the wall. Collared Doves and House Sparrows have in turn colonized the ivy. The tower is about thirty feet high on a mound of about twenty feet, and it's become a high-rise full of avian condos.
English reserves usually provide a number of viewing blinds, called "hides" in British. Rye Harbour has several. The first one is just south of the visitors center on the bank of River Rother just north of its mouth on the sea. Here were Dunlin with black bellies, a Black-bellied Plover still in winter plumage, Ringed Plover that breed here, as well as breeding Redshank. Near the hide a pair of Linnet sit on the fence. These are gray and brown seedeaters. He is slender with an unstreaked back and a rusty chest. Junco-sized, the Linnet loves windy grasslands and is in the genus Carduelis, making him a close cousin of the American and European Goldfinches plus the various redpoll and siskin species. Over the open , dry gravely areas, Black-headed Gulls circle and screech. Their coloring is similar to Bonaparte or Franklin Gulls. They are small with that same wind-tossed flight we see in small American gulls. Just at the edge of the path a parent Northern Lapwing scurries and keeps an eye on its little fuzzball chicks. This large shorebird is common breeder across northern Europe and this is the most abundant of the world's two dozen lapwing species. Most others are limited to Africa.
The adult breeding-season Lapwing has a fine set of Cavalier plumes that sweep back off its forehead and ride high above the back of its head. This black, brown and white bird has a deliberate wing-beat that is like a code-machine-black, white, black, white, black, black, black (as it turns).
Next, my first Eurasian Oystercatcher of the day passes overhead. Another black and white bird, with the bright orange beak of the oystercatcher family. As it flies the beak is pointing straight ahead of the black face. The white chest and black are edged by the black wings and black tail fringe. These oystercatchers are highly gregarious and spend much of their time on sandy beaches or shingle dunes and even pastures.
The shingle here is mostly flint, eroded from the chalk cliffs along the English and French coast where it was an older stone that got caught in those long-ago shell beds that became today's chalk. Now these most ancient rocks have been rounded, shaped and polished by the sea and tend toward oval or round.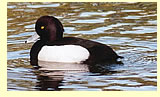 My next stop is the hide at the east end of the well-named Ternery Pool. Through the narrow opening I watch hundreds of nesting Black-headed gulls on two islands less than fifty feet away. On one I pick out a few dozen Common Tern nests. The din is distracting, squalling terns, screeching gulls, an occasional basso honk from the many Mallards or the caw of a crow patrolling for some unprotected gull chick. On the far bank of the pool are some loafing Common Shelduck, their ruddy breast band a sure field mark. Tufted Ducks, Oystercatchers lining one dune, a gaggle of Lapwing near them, a couple passing Herring Gulls. The English couple in the hide with me point out the Mediterranean Gull nesting in the maelstrom on the most crowded island. Its heavy, dark beak differentiating it from the many Black-headed. Nice bird for England. But I came here for bigger game.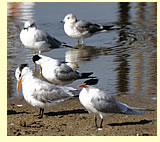 Then looking at a higher, brushy island further way I notice those great dark-headed rough-crested critters I was looking for. There are my first Sandwich Terns in England. From the hide I can only seem them from the neck up as the slope of their nest island and its fringe of grass and weeds obscures their bodies. The head is unmistakable, that rough crest they share with Elegant and Caspian Terns. It is my #196 United Kingdom lifer. I had seen the Sandwich Tern earlier in Estonia.
From that hide I walked south to the coast... and far down the beach I see a gathering of several dozen terns and gulls. When I get close enough for a good view, having left my scope at home, I realize it is a group of fishing Sandwich Terns, every few seconds another one lands with a fish about sardine-sized in its beak. One or two of the hunters offers its prize to a gull on the beach. Mostly they sit and look out to sea, ignoring me. It's a perfect view under gray skies with no glare. The gulls are largely Herring with a few Black-headed. Some Cormorant pass by.
Crossing the shingle again toward the western hide on Ternery Pool, I pass a couple more Ringed Plover. They are slightly smaller than Killdeer and rank only one neck stripe, not two. From some of the clumps of sparse vegetation on the shingle Skylarks rise into the air, giving their seemingly endless song to the heaven, then fold their wings and plunge to earth. The greatest songsters in English birdland are all drab, brown birds: Song Thrush, Nightingale, Reed Warbler and Skylark.
At the second hide I pick up Whimbrel, Ruddy Ducks (that American transplant), a lingering Shoveler that should be far north by now, Gray Herons hunt the edge of the pool. Just in front of the hide, an adult Ringed Plover with its two little cottonball chicks hunt across the gravel. A lone Greater Black-backed Gull sails high overhead. No sign of the Roseate Tern the ranger had seen earlier in the day. And I will look and look, thinking one good tern deserves another, but the first Roseate will have to wait for another day with other luck.
I follow a trail back across a yellow field of blooming mustard as I head back to Rye town. First a Yellow Wagtail appears on a fence post, flashing his buttery belly for all to see. Then a male Reed Bunting comes onto the top of a bush to sing his spring song. A little brown seedeater he wears a black and a black cravat below his starchy white collar. Over the field House Martins and Barn Swallow cross and swoop. Along the bushy field edge and across the motionless water in a drainage ditch: Blue Tit, Great Tit, Chiffchaff, Whitethroat, mellifluous Reed Warblers in a musical duel. But I will have to go back: I missed Wheatear, Whitchat, Black Redstart, Garden Warbler, Garganey and Little Tern. A couple of those would be English lifers.
Rhine Finds
As an American in Europe I can no longer afford national pride, so when business took me to Germany I swallowed five decades of political prejudice and stayed a couple extra days. Good idea. First, the modern Germans are generally relaxed, pleasant to strangers and especially grateful to Americans for taking them off the top of everybody's outrage list. I must say I envy them their pride on having a country that said "No" to the Iraq adventure.
Beyond that, they have some fine birding.

In Frankfurt city parks I found all the usual common species like finches and tits and Mallard and Gray Heron, Moorhen, Nuthatch, Pied Wagtail, Short-toed Treecreeper, thrushes. But I also found several Spotted Flycatchers in the Palmen Garten. There were many Common Swift, but no swallows in the city.
I rented a car and headed to Kuhkopf on Saturday. It's a lowland preserve along an oxbow from the Rhine. The first sound I heard in the parking lot: Common Cuckoo. Near the high arched pedestrian bridge into the park: White Stork on its nest with two young. From the top of arched bridge you are eyeball to eyeball with the parent stork in the nest which sits atop a dead tree trunk deliberately cut off at the right height for the Storks which are apparently suffering from the modern farming methods in Germany. Nothing unusual in the stream: Mallard, Mute Swan, Gray Heron. Blackcap, Chiffchaff, Reed Warbler all calling from the weeds. House Martins and Barn Swallows gathered over the river. Serin lisped from atop a tree. They are a small yellow finch, gregarious and widespread on continental Europe. I've now seen them from Spain to Estonia. Before I even get to the bridge a Black Kite floated across the sky overhead, the trademark bird of Kuhkopf and a graceful, long-winged, dark hunter with a barely notched tail.
You can only walk or ride a bike in Kuhkopf which covers twenty square miles, so I left eight hours later with sore legs.
Just inside the reserve I see my first Black Redstart of the day, hunting on the lawn of a café that doesn't open until noon. A Song Thrush sounds in the dense woods. Past the visitors' center, which doesn't open until 9:00 (and has the only official toilets), I enter the grasslands. It is cold and overcast and I have not brought a heavy jacket. Not to worry, there are Black Redstarts and Pied Wagtail on the buildings, tits in the pear orchard, a Red-backed Shrike streaks past and lands on his fecal-painted post. What a great little bird.
I hear the familiar three-note call of Europe's Golden Oriole, and I pursue. Near a small pond, the Oriole sings from high in a plane tree. "OR-EE-OL, OR-EE-OL." There I find my first Great Spotted Woodpecker, later today I will add Middle Spotted with its white face, the giant Black (almost as big as our Pileated) and the shy Wryneck, a fleeing figure in the forest shade. Just as I pish my voice box away, the Oriole finally flies out of the tree and across the field to the deep woods. An unseen Reed Warbler continues to whistle and trill and fizz and warble in the reeds, of course.

Overall the reserve is about half forest, half grasslands, with small bands of each interlaced with the other. It is surrounded on all sides by flowing river water, has many small ponds and narrow, isolated oxbow channels and good freshwater marsh. The paths across the grassy areas are lined with apple trees, each labelled in German as to its variety. These trees produced: Skylark, Yellowhammer, Tree Sparrow, Goldfinch and Meadow Pipit as well as more Red-backed Shrike and tits.
In the woods I found Marsh Tit, Long-tailed Tit, Jay, Short-toed Treecreeper, Whitethroat, Nightingale, Robins, Blackbirds, Winter Wren and hundreds of nesting Starlings.


On one pond I added Little Grebe, and got my first view of Cuckoos chasing one another in and out of the willows. No sign of the local specialty— the Bluethroat which lurks in the reeds. At one clearing along the oxbow I encountered several Spotted Flycatcher hunting in mid-afternoon sun. It had finally warmed up to about 65 F. On one forest edge was a Stone-chat fly-catching, and numerous Robins. The most common bird across the reserve was the Chaffinch, singing everywhere. Greenfinches were also common. There was a Common Kestrel and another Black Kite near the entrance as I left around 4PM. I encountered only one other birder all day and few hikers or bikers.

In the Black Forest area and Baden-Baden I added Common Buzzard, a Yellow Wagtail in a farm field, more Kestrel, a Goldfinch in the city park of Baden-Baden, a Willow Tit in the mountains. Best bird of the trip: a pair of White-throated Dipper [Cinclus cinclus] hunting in the Oostbach running through the crowded Baden-Baden city park, carrying food to their nest underneath a busy street bridge just across the park from the Brahms statue.