Photos by Len Blumin
1. Red-necked Phalarope - Phalaropus lobatus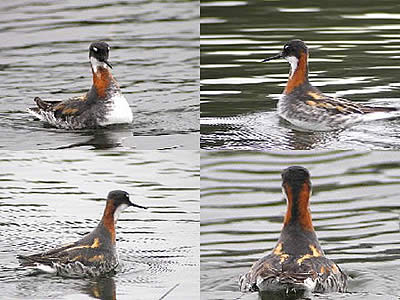 There are only three species of Phaloropes in the world, and lucky are we to see all of them on the West Coast. The Red-Necked (aka Northern Phalarope) is the most common,and what a strange and wonderful bird. It weighs in at not much more than an ounce but is able to forage at sea in ungodly waves, and migrates great distances. When on water near land it is a true joy to watch, whether "spinning" in shallow water, or swimming frenetically in a sewer pond, as here. The female is the more colorful, supposedly due to higher testosterone levels, which perhaps accounts for her un-maternal behavior. After aggressively courting a male (chasing away competing females) and receiving his contribution to the next generation, she lays her eggs and takes off, leaving him to brood and raise the young. The Phalaropes are "sea birds" by behavior, but can even forage on land, and are in a family by themselves, loosely allied to the shorebirds, in the order Charadriformes.
Not the sharpest of photos, but a lot better than none at all! This bird makes me wish I had a DSLR with a big lens, as these critters are a digi-scoper's nightmare. Kind of like trying to follow a swallow or a dragonfly with 10x binoculars! Anyway, here is what I got. Small pics are good for hiding soft images! Taken at Bird Walk Costal Access, pond #1, Bodega Bay, 4/28/06.
2. California Woodpecker (Balanosphyra formicavora bairdi)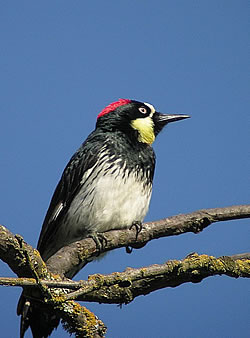 Say what?? The California Woodpecker?? Yes, there is one, and its distribution and life style are described at length in Arthur Cleveland Bent's "Life Histories of North American Woodpecker" 1939, republished by Dover Books in 1964.
Bent quotes an earlier naturalist, U.S. Army Major Charles Emil Bendire (as in Bendire's Thrasher), who in 1895 wrote:
"The California Woodpecker is by far the most social representative of this family found within the United States, and it is no unusual occurrence to see half a dozen or more in a single tree. It is a well-disposed bird, and seldom quarrels or fights with its own kind or with smaller species; but it most emphatically resents the thieving propensities of the different jays, magpies, and squirrels, when caught trespassing on its winter stores, attacking these intruders with such with such vigor and persistency that they are compelled to vacate the premises in a hurry."
Bendire's works, Life Histories of North American Birds, apparently formed the foundation for the famous and treasured Bent series.
Well, by now, if you are from California, you no doubt have guessed the identity of the California Woodpecker, as shown above.
The Acorn Woodpecker, Melanerpes formicivorus, is common in California, but ranges north to Oregon, eastward to Arizona and New Mexico, and south into Mexico. This one appears to be a female (hey, it's Mother's Day), as the white of the forehead is separated from the red cap by a band of black, but the photo does not clearly show this distinction. "Formicivorus" means "ant-eating", but they eat insects of all kinds, along with varied vegetable matter, depending on acorns to provide food during the winter months. Their communal behavior is fascinating and rather unbirdlike, deserving a whole book in itself.
Photo right from the camera, except for cropping, so the colors are reasonably accurate. With the clown face, yellow throat, and black vest that ends in streaks, this is perhaps one of the least confusing birds in the world to identify.
3. Bonaparte's Gull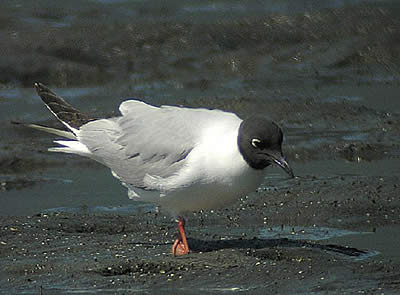 There is a flock of Bonaparte's Gulls hanging out in Richardson's Bay, easily seen from the beach at Blackie's Pasture. They were foraging on the mudflats there at low tide today, joined by some Caspian Terns that were bringing fish to prospective mates.
Bonaparte's Gulls are small gulls (13", 7 oz.) with thin black bills, a dark ear spot, and pink feet. But right now they are changing from their basic plumage into breeding (alternate) plumage. The molt produces a striking black head with small white "eye arcs", and the feet get red-orange. Very difficult to get a decent photo in the bright sunlight, but I wanted you all to hear about them in time to go have a look.
Among the other black-headed gulls, the Little Gull lacks the eye arcs, and Black-headed Gull, Franklin's Gull and Laughing Gull all have red or reddish bills.
4. Least Tern (Sterna antilarum)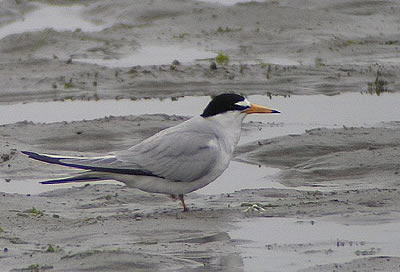 Some creatures are just too sublime to describe, sort of like trying to talk about a sunset or a symphony. Seeing the Least Tern today was one of those moments, and I hope you can get out and see this splendid little bird yourselves. The Least Tern is unmistakable, to say the least, with its black-tipped yellow bill and white forehead. Hard to believe this little acrobat weighs 1-1.5 oz (half as much as a Robin!). We watched a small group foraging on a mudflat in Alameda (directions below). The males, which are larger, would catch small fish and feed them to a few females who had staked out spots on the mud and were calling with a rather plaintive chick-like begging. Best bird of the year for me!
The dark eye is obscured by the black band, but you can see the lower eyelid. We found them just south of the old Alameda Air Station. Take 880 south, Broadway/Alameda exit, then south for a bit and follow signs to Alameda, which take you thru the Webster Tube. Follow Webster for a bit, then right on Central (heading west) until you pass Encinal High School, then just after Lincoln you will take a left on a service road called "Encinal Boat Ramp". Park at the very end and scope out the beach to the west. They were there at low tide (11 am today). Foster's and Caspian Terns completed a very pretty picture.
5. Least Tern (Pair)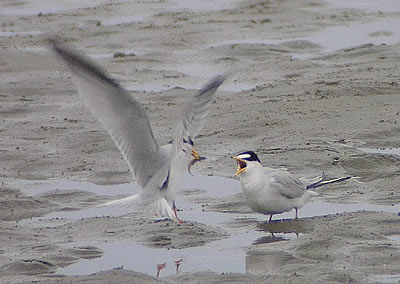 The Least Tern is distributed widely in the world, but is seen mostly along coastal waters. On the west coast it is found in mid to southern California, and is not seen often north of San Francisco. Unfortunately Least Tern numbers were decimated by hunters in the past, and more recently its nesting area have been lost to coastal development. All the more reason to cherish this little beauty while we can. Here the smaller female is receiving an offering by a hopeful male. He hasn't even landed, and already she is screaming!
6. Black-necked Stilt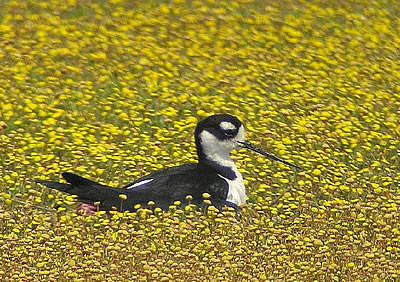 Great time of year to watch our local Recurvirostridae, the American Avocet (Recurvirostra americana) and the Black-necked Stilt (Himantopus mexicanus). Good site in Marin is at Shorebird Marsh in Corte Madera (north of Nordstoms's), and in Sonoma at Shollenberger Marsh, Petaluma. They nest on islands close enough for good viewing.
The Black-necked Stilt has impossibly long dark pink legs, calls frequently, and could be one of the most elegant creatures on earth were it not for their incessant calls. But let's forgive the calls and enjoy the beauty.
Not sure of the flowers - might be Brass Buttons (Cotula coronopifolia) - but they seem to provide a nice nesting area. There are five species in the genus Himantopus, although the experts talk about lumping them together in a super-species. Of course ours, the Black-necked, is the most attractive. The Black-winged Stilt, aka Pied Stilt, is found in South Africa, Ceylon, Sri Lanka and other far-off exotic places. The White-backed Stilt, aka Black-tailed, or South American Stilt, is seen in (duh) South America. The White-headed Stilt is also known as the Australian Stilt, and the Black Stilt is the New Zealand Stilt. And then there are the Avocets, four species, but that's for another day.