Roger Tory Peterson: the first modern birder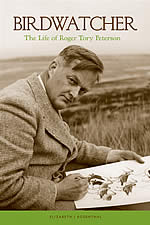 BIRDWATCHER, The Life of Roger Tory Peterson
By Elizabeth J. Rosenthal
Lyons Press. Guilford, Conn.
437 pages. $29.95.
It's hard to imagine what today's birding world would be like had Roger Tory Peterson not lived as he did. It's A Wonderful Life gives you a glimpse into the effects of one dedicated man's impact on his community. Without RTP the lives of millions, from birders to the birds themselves would be quite different… and most likely bleaker. With his publication in 1934 of the first Peterson Field Guide to the Birds, Peterson intiated a still-reverberating change in how ordinary people saw nature.
"Gee, I didn't realize there were so many different kinds of birds."
Elizabeth Rosenthal's biography covers all the momentous occurences in Peterson's life from his first Flicker encounter to his first field guide. From his arrival in New York City as a naive teenager to the global role he played as the world's best known birdman. Without a college education he rose to a position of prominence among ornithologists, birders and conservationists.
Rosenthal stops short of declaring Peterson a great artist in the tradition of DaVinci and Renior, but there's no doubt of his genius as a man who communicated visually, orally and in writing about birds, their habitat and the natural world in general. Throughout the many interviews Rosenthal conducted for this biography she encounters time and again men and women whose lives and understanding of nature were enriched by Peterson and his work.
Just think of this: a young artist with almost no portfolio, no academic degrees, no money, and a job teaching high school puts together a groundbreaking field guide on birds that alters forever how humans view the animals and plants in the natural world. Peterson did for nature study what similar young geniuses did for communication when they pioneered websites and blogs fifteen years ago.
The arc of Peterson's inspiring life, from small town to worldwide respect and admiration is at once familiar in American history, but in detail unique to this man. He became the most important voice for nature and conservation for generations following John Muir and John Burroughs. His friends and associates included Paul Brooks at Houghton Mifflin who edited Rachel Carson's Silent Spring. There was almost every big name in American conservation. Peterson was present as inspiraton at the inception of the World Wildlife Fund. He, Lars-Eric Lindblad and their friends really initiated eco-tourism in the 1970s. Always at the core of Peterson, his creativity and his life was a love of birds.
Rosenthal captures the man, his passions and his intense wonder at nature and its workings. There was an earlier RTP biography of Peterson by Douglas Carlson. It was published in 2007 by the University of Texas. Carlson interviewed nearly thirty associates and relatives of Peterson. Rosenthal's total is almost four times that many. And she had two interviews with Peterson's second wife, the one living person who knew Peterson better than anybody. The more interviews the better when trying to word-sculpt the many facets of a man as strong, complex, self- absorbed, brilliant, forgetful, audacious and creative as Peterson.
Further, Rosenthal traces the many strands of influence that went into making the RTP who became so right, so influential. The Bronx Bird Club and its mentor, Ludlow Griscom, who developed keen insights into identifiying birds alive in the field. Thus he became part of the movement that stopped rampant bird shooting "for science" and egg collecting. Peterson, of course, pioneered what we know as the modern field guide. He was among the first to use film and still cameras to portray bird life. He was there at the birth of eco-travel. And, for which I shall always be grateful, he and his Bronx buddies first made it okay to have fun birding, to compete, to endure a Big Day or a Big Year.
I had not realized how influential Peterson was outside the U.S. He created Europe's first modern bird field guide. He encouraged those with the knowledge to do the same for East Africa and other far-flung parts of the globe. He encouraged and lent his name to conservation and wildlife efforts on every continent. And he fell madly, incurably, in love with penguins. How cool is that.
When I teach or meet beginning birders I still tell them to get the Peterson field guide. NO better way to begin learning your local birds.
I briefly spoke to RTP about twenty years ago when he came to town for a book signing, his latest new edition of the Field Guide for Western Birds. I look now at his clear, firm signature and his exhortation "For Harry Fuller, Good Birding." You betcha, Roger, and no small thanks to you and those who've built on all you knew and all you created. And some thanks, too, to Elizabeth Rosenthal for letting me see RTP in all his splendid humanity.
To order this book, go to www.petersonbird.com/index.htm
The Roger Tory Peterson Institute in his hometown - Jamestown, New York: www.rtpi.org.
Houghtlon Mifflin's RTP bibliography. Does not include his myriad magazine articles. www.houghtonmifflinbooks.com/peterson/rtp/bibliography.shtml.