Mount Ashland, Oregon
Update July 2009
00 miles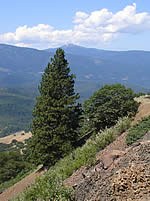 Mount Ashland Road begins at old Highway 99, south of the Mount Ashland I-5 off-ramp (Exit 6) as you come up the hill from Ashland, Oregon. At this point you're already about 4,000 feet above sea level. Most of this forested land here is in the Rogue River National Forest. There are numerous private in-holdings as you drive up the mountain.
Even at the bottom of the road there are nice views back down the valley. You see multiple shades of green from the variety of evergreens prevalent here in the Siskiyou section of the Klamath Knot. By mid-summer the grass has turned to soft dun; many of the bare rock faces that run with water all winter are now dry.
There are toilets near the peak, but no store, no running water. Don't leave home without it. This drive can be a good morning's birding, or you can take a picnic, there are tables near the peak. Coming down you can notice the wildflowers, dragonflies and butterflies you probably ignored on the way up, or try to ID some of the glorious big gymnosperms.
Take a camera and scope if you can. Many of the finches, flycatchers and even woodpeckers will sit quietly on top of a tree, often a very tall one. The distances you can see are sometimes enormous. There are recurring views of Pilot Rock to the east and snow-topped Mt. Shasta volcano that is southeast in California.
01 mile marker in place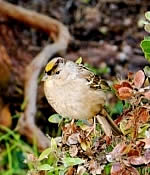 Not all mile markers on Mount Ashland survive the rock slides and winter avalanches. Past this marker Colestine Road forks to the left and downhill toward California. It's a well-kept gravel road at this point. Opposite the road fork is a broad, level pull-off. Park here. I've never been disappointed birding this area. On both sides you look down. On the left (south) you are eye-level to the middle of tall evergreens. Want to look a Hermit Warbler in the eye? Here's the spot. I even had one foraging BELOW where I stood. I often get my first Mountain Chickadees here. In spring: singing Junco, Tree Swallow, Robin, calling Hermit Thrush (which became a fixture all the way up through the forest), Yellow-rumped [Audubon] Warblers, Nashville Warbler, calling Black-headed Grosbeak, calling Western Tanager, calling Olive-sided Flycatchers, first Dusky Flycatcher of the day, Rufous Hummingbird. Drive up this road with your windows down. Hear a bird, stop and look. Up the road a bit I heard my first Cassin's Finch. Did NOT see it.
02 mile marker
Here you will notice the second bare rock wall on your right (north) due to a rock slide. On your left the mountain drops steeply giving you views toward California. Here the forest has an undergrowth of manzanita and bracken. Northern Flicker, Mountain Chickadee, Cassin's Finch, Brewer's Blackbird. Tanagers can sometimes be seen in treetops.
03 mile marker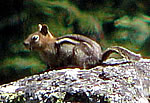 There's a small private road heading downhill on your left as you head up mountain. A little way down the road (there are actually three connected lanes apparently) is a sign "Warning Attack Dog." I did not see a dog, nor did I attack one. Any barking was purely imaginary. Here's a bare rock face about twenty feet high on the uphill side of the road. Watch the edge of the brush as it over-hangs the rock: perfect spot for Golden-mantled Ground Squirrel, i.e. big chipmunk-like rodent. On this dry uphill slope evergreens are sparse. First Green-tailed Towhee spot. Also: Hermit Warbler, Bushtit, Yellow-rumped Warbler, Black-capped Chickadee (their range overlaps Mountain here), Cassin's Finch, Western Wood-pewee, Lazuli Bunting, Macgillivray's Warbler staying low in the brush.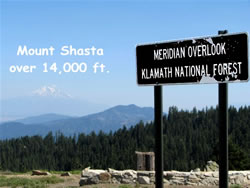 This area is a real test of your birding focus. From here you begin to get mesmerizing views of snow-topped Mount Shasta south in California. Depending on haze and air conditions it can look like a floating mirage beyond the mists, or it can look so close and sharp-edged you take if for a computer-generated two-dimensional image. Some days it's behind miles of gray-blue haze but Shasta's snow is pure white in the sun from the cloudless sky. Even Shasta lacks its usual swirl of white clouds in the relative cool of the early morning.
Further uphill is a chain-up area for drivers during snow season. It's on the right-hand side and a good spot to park. Spring: Hermit Thrush singing, Hairy Woodpecker, Red-breasted Nuthatch, Purple Finch, Robin, Brown-headed Cowbird.
04 mile marker
Pull off onto left hand shoulder here. To the west (left-hand side of highway) you are given your first fine view of Pilot Rock. It's a giant stone thumb pointing to the sky. Early travel between California and Oregon depended on this unique landmark. It's just inside the Oregon border next to a convenient pass of about 4,300 feet. The top of the rock itself is over 5,000 feet above sea level. Now you're looking down on it. In Ashland there's a brew-pub using this stone as its logo, Standing Stone Brewery. The beer is great, the food service slow. Hermit Thrush, Flicker, Olive-sided Flycatcher. Further along there's another Sno-Park pull off on the right. Easy parking next to a line of cement barriers. A private road goes off to the right as you look uphill. Bird here and the dry upslope beyond, where manzanita out-number evergreens. Western Tanager, Junco, Warbling Vireo, Red-breasted Sapsucker, Hairy Woodpecker, the sulking warblers—MacGillivray and Orange-crowned. At this spot I once saw a Clark's Nutcracker, unusual in the Siskyous.
05 miles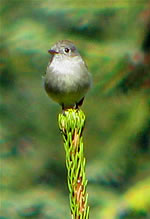 Mount Ashland Inn, a bed & breakfast Beyond the inn, you will come to the first true mountain meadow along this road. No manzanita here, but gurgling mountain water beneath the short, dense plants. Junco, American Goldfinch, House Wren, Lincoln's Sparrow singing, Lazuli Bunting. I hear woodpecker drumming. The trees are typically tall. Once a very unafraid Dusky Flycatcher giving good, close looks at his big beak, long tail. The doe eating in the meadow keeps an eye on me. I bird, she eats. We are soon less than twenty feet apart. Finally she decides I smell bad and lopes across the meadow to the far side, never glancing back to make sure I am not pursuing her. Through my entire visit the Lincoln's Sparrow sits atop a short, rotted-out stump, singing and singing. Once he dives into the air to chase the House Wren away.
06 miles
In the dense forest now. On the right is a large paved parking area, for winter car chaining. It's just short of the 7 mile marker. To the north is a dirt road leading to Bull Gap Snowpark. On the south side of the road is mile maker "Mt. Ashland 2, I-5 7." This is another good place for the little ground squirrels. Here are also relatively level roads if you're ready for a walk in the forest. Take care, I am almost run over by mad-man on motorcycle. Why isn't that kid in church? Junco, Siskins, Crossbills, Raven, Hermit Warbler, Western Wood-Pewee, Hermit Thrush singing. From past visits I know this as Yellow-rumped Warbler territory. If I were to hear or see Pileated it would be here.
07 mile marker
Beyond this marker you cross a saddle with views both into the Rogue River Valley to the north and southward to Shasta and northern California. I have seen Red-breasted Nuthatch and Cassin's Finch along this stretch of road. Uphill from the 7 mile marker rhere's a hairpin turn in the road. In the forest between the two stretches of road I have seen a family of White-headed Woodpeckers feeding and fluttering about in late summer. From year to year these birds are highly mobile but this is their kind of habitat. They're not shy, just unpredictable. I've also had fleeting glimpses of Goshawk streaking through the trees here.
08 miles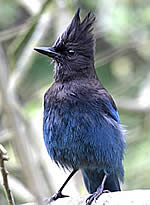 Well beyond eight miles you come to the Mt. Ashland Ski Lodge. Closed after the skiing season. This area should be birded carefully. Park first at the east edge of the huge paved area. There's open space under the ski lift that starts near the lodge and climbs a gentle slope uphill, roughly parallel to the road you just drove up. This open space usually has a pair of Mountain Bluebirds, often hunting from the wires. Among the rocks bolstering the ski lift are myriad little ground squirrels. Here your views are both close and distant. You are on top of a saddle with long views, and also many nearby trees at eye level. As well you can face expanses of grassy meadow (man-made) and mountain meadow kept treeless by regular winter avalanches. Violet-green Swallow, Mountain Bluebird, Green-tailed Towhee are abundant here, Siskins, Red-breasted Sapsucker, Cassin's Finch, Western Tanager, Ravens, Steller's Jays. But the star of this stop, perhaps the single best reason to drive up this mountain: a pair of White-headed Woodpeckers Once nest in a tall, snow shattered evergreens on the lip of the parking area's south cliff. Both were drumming and visible when nesting. This species rarely nests in the same area two years in a row.
09 miles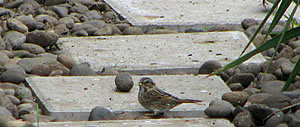 You reach this distance just as you leave the first parking area. Stop here and bird the edge where forest meets mountain meadow. Don't forget to look uphill as well. Next you'll cross another parking area, there'll be a dirt road going left and downhill. Then you will pass through a metal gate and enter the picnic and camping area. I have been up here as late as May 10th and found the road blocked at this point—by ten foot high mounds of snow scooped from the ski area parking lots over the winter. The birds often arrive before the road is opened. With snow still on the ground you can find Lazuli Bunting, Dusky Flycatcher, Junco, Lincoln's Sparrow, Nashville and Yellow-rumped Warbler, Green-tailed Towhee, RB Nuthatches, Red-breasted Sapsuckers. Beyond the metal gate you will soon come to a small parking area with two public toilets on the left side of the road. Then follows the first large meadow at this upper edge of the tree zone. You can tell trees here have a hard winter every year. This is likely spot for the scarce Gray Jays as well as golden-mantled Ground Squirrel. I've seen Townsend's Solitaire and Red-breasted Sapsucker in this area as well. One August I watched a mountain beaver harvesting his winter supply of hay, cutting the eighteen-inch tall wildflowers right at the ground and pulling the entire plant into his burrow. I've also seen young Goshawk hunting over the treeline in late summer. Also in August a group of birders good dozens of photos of a female Sooty Grouse snoozing atop a boulder just twenty feet above the dirt road. She may have had young in the underbrush.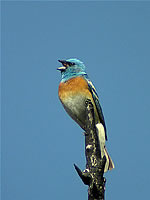 10 miles
Here there's an intersection, one road going left toward Grouse Gap, the other uphill toward the summit of Mount Ashland. Go to the right. You will pass several mountain meadows. Those with the most dense clusters of Scouler Willow offer the best birding. Lazuli Bunting—watch for the bright flash of blue that is NOT a wildflower. If you come within a few days after the snow melts and the meadows are fresh, the male Lazuli will be on top of each bush, singing. Timing seems to vary with depth of each winter's snow and its melt rate.
Green-tailed Towhee, Rufous Hummingbird, Steller's Jays, Flicker, Yellow-rumped Warblers. Here in one meadow I huff and puff uphill a little. We're at about 7000 feet now. The mountain goes just over 7500 feet, making it the tallest in the Siskyous. As I approach the singing buntings and towhee, they shush. To no avail I am pishing in the wind. I hear what for me has become the saddest bird sound I know. A single sharp alarm call from a Mountain Quail. I know these birds exist. I have heard them here before. I have not seen them here, or ever. Like Blue Grouse I now consider them a bird to hear, not to see.
If you take Forest Service Road 20A, it winds uphill to the peak of Mount Ashland, 7511 feet officially. Tremendous views in all directions. It is the tallest peak between Mt. McLaughlin to the north and the Trinity Alps in California.
If you follow Forest Service Road 20 to the left and slightly downhill, you are approaching Grouse Gap. There is a stone shelter there. The treeless meadows have a wide variety of flowers in spring and summer. Numerous Rufous Hummers ply their trade. This area is good for White-headed Woodpecker some years. They like storm damaged dead trunks.
11 Miles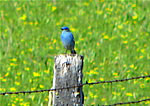 Grouse Gap Shelter is to your left, Road 20 heads south and along the ridge line. Here you can expect birds of meadow and the fir clumps: Junco, Pine Siskin, Nashville, Orange-crowned and Yellow-rumped Warbler, Red-breasted Sapsucker, Chipping and Lincoln's Sparrow, Lazuli Bunting, Green-tailed Towhee. Occasionally you might spot a Mountain Bluebird, Kestrel, or Red-tailed Hawk hunting the high open meadows.
13.2 Miles
Parking for Meridian Overlook with gasp-inducing views of Mt. Shasta. Much open land here, some scoured completely of any vegetation. In this area the birds are often concentrated in the fir stands.
Anywhere on this drive you are likely to spot Turkey Vultures or Common Ravens. No crows up here. Possible at the higher elevations are Northern Goshawk. On brushy mid-elevation slopes you are more likely to hear Mountain Quail than actually spot one. Both Ruffed and Sooty Grouse live in the forests, not likely to show themselves except during the mating season in late spring. The Golden-crowned Kinglet inhabits these forests and remains largely invisible in the treetops, though you can hear it if you have good ears.
---
My Mount Ashland checklist, so far:
Mountain Quail
Turkey Vulture
Red-tailed Hawk
American Kestrel
Anna's Hummingbird
Rufous Hummingbird
Red-breasted Sapsucker
Hairy Woodpecker
Northern Flicker
Olive-sided Flycatcher
Western Wood-Pewee
Willow Flycatcher
Dusky Flycatcher
Pacific-slope Flycatcher
Gray Jay
Steller's Jay
Common Raven
Tree Swallow
Mountain Chickadee
Red-breasted Nuthatch
Brown Creeper
Bewick's Wren
House Wren
Winter Wren
Golden-crowned Kinglet
Mountain Bluebird
Townsend's Solitaire
Hermit Thrush
American Robin
Cedar Waxwing
Orange-crowned Warbler
Nashville Warbler
Yellow-rumped Warbler
Hermit Warbler
MacGillivray's Warbler
Wilson's Warbler
Western Tanager
Green-tailed Towhee
Spotted Towhee
Chipping Sparrow
Fox Sparrow
Lincoln's Sparrow
Dark-eyed Junco
Black-headed Grosbeak
Lazuli Bunting
Purple Finch
Cassin's Finch
Pine Siskin
Lesser Goldfinch