2009 Great Backyard Bird Count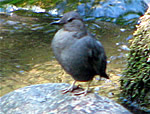 Pine Siskins were the stand-out species on this year's Great Backyard Bird Count. Over 90-thousand individual checklists were submitted for the winter bird count event. And over 600 species were seen somewhere in the United States. Along with the Siskins the eastern U.S. found a record number of the scarce White-winged Crossbills, over 4000.
Birds that seem to be in serious decline: Loggerhead Shrike, Northern Bobwhite and Eastern Meadowlark. All down significantly since the count began five years ago.
Here are the top ten species nationally--reported on the most checklists:
1) Northern Cardinal
2) Mourning Dove
3) Dark-eyed Junco
4) American Goldfinch
5) Downy Woodpecker
6) Blue Jay
7) House Finch
8) Tufted Titmouse
9) American Crow
10) Black-capped Chickadee
The most numerous bird: Snow Goose, with over one million birds reported.
OREGON RESULTS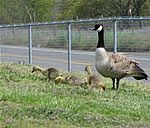 There were 197 species reported statewide. The Dark-eyed Junco was seen by the most observers (over 900 checklists). The Black-capped Chickadee and Robin were both listed on over 600 reports. Most numerous species: Canada Goose with nearly 40,000 reported. Cackling Goose was second. The European Starling was the most abundant songbird. The Junco was the most abundant native songbird in the Oregon counts. Oregon reported 8 White-winged Crossbills but only 2 Say's Phoebe. There were only 4 Western Screech-Owls reported. Sadly not one from Ashland's Lithia Park playground. And no Dipper from Ashland either. There was a single Lewis's Woodpecker recorded in White City, one third of the Oregon total this year.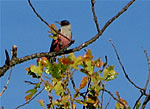 Rogue Valley birders' checklists: Medford 26, Grant's Pass 25, Ashland 13, Phoenix and White City 3. There were more than two dozen lists from Klamath Falls. The Medford lists contained 68 species with over 250 Brewer's Blackbirds the most abundant.
Here you can find all the current and historic Backyard Bird Count info: http://www.birdsource.org/gbbc/press/news-stories/2009-summary-news-release.
The National Audubon Society is co-sponsor of the annual count along with the Cornell Lab of Ornithology and Wild Birds Unlimited.