EMIGRANT LAKE BIRDING, ASHLAND, OREGON
Emigrant Lake Birding Trail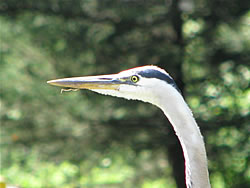 Year-round birds that can be seen anywhere around Emigrant Lake: Canada Goose, Great Blue Heron, Red-tailed Hawk, Red-shouldered Hawk, both eagles, Killdeer, California Quail, Acorn Woodpecker, Western Meadowlark, , Scrub-Jay, Crow, Raven, Western Bluebird, Spotted Towhee, Lesser Goldfinch, Brewer's Blackbird. In fall and winter more exposed areas can be quite windy.
As early as February 28th I've seen Sandhill Cranes migrating north over the lake after crossing the Siskiyou Pass. They move southward past here in late September. Sauvie's Island hear Portland, Oregon, is a regular stopping and wintering spot for the Pacific Coast crane population.
00 Miles:The intersection of Highway 66 and the entrance road to Emigrant Lake County Park. That is approximately 2.4 miles south of the intersection of Highway 66 and Dead Indian Memorial Road, just east of I-5 Exit 14.
If you turn left onto Emigrant Lake Recreation Area entrance road, you'll drive up toward the large boulder dam. Watch the fields to your left. Western Kingbirds, Western Bluebirds and Lesser Goldfinch may be along the fence line in summer. As you turn up the hill toward the rowing club building, the berry tangle on the left side of the road will shelter sparrows in winter, including Golden-crowned and an occasional Lincoln's. When the road levels out and goes along above the lake look for: Western Bluebirds, goldfinches, House Finches, any birds on the lake. In the oaks on the hillside to the left there can be Acorn Woodpeckers year round, Lewis's Woodpeckers join them in the winter and early spring.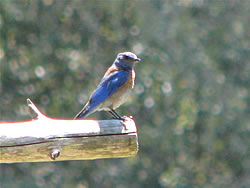 After you enter the park you're in a mixture of native oak forest and gardened parkland. Expect Acorn Woodpeckers, Oak Titmouse, White- breasted Nuthatch, Western Bluebird, Spotted Towhee, Scrub-Jay, Brewer's Blackbird, Crow, Raven, Robin year-round. In winter they may be joined by both kinglets and clouds of Juncos, Golden-crowned and Fox Sparrows. Yellow-rumps are common in passage. Overlooks may give you views of Bald Eagle or Osprey (March-September) perched or hunting over the lake. One February morning a Golden Eagle passed close overhead as our birding group stood along the road by the boat ramp. Out on the water: Western Grebe from fall to spring. Mallard, Canada Goose and Common Merganser year round. Wintering ducks can include; Ruddy, Bufflehead, Lesser Scaup, Ring-necked. Coots winter here annually. Along the lakeshore in the sparse willows you may find Yellow Warbler, Yellow-rumped Warbler and other spring migrants.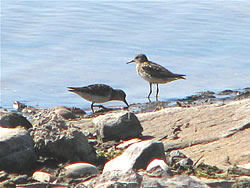 When you reach the cement spillway just past the large boat ramp, look to the north and watch for Golden Eagle. They often launch themselves from the steep bluffs in that direction, uphill from the yellow Tuscan-style mansion. The boat ramp area may attract migrating shorebirds in late summer, e.g. Western and Spotted Sandpiper.
As you pass through the RV parking area toward the end of the road, watch for: bluebirds, Lazuli Bunting, Chipping Sparrow, various swallows. Take the trail toward the largest dam, parallel the lake with the RV area to your back. Here you can find Chipping Sparrow, Olive- sided Flycatcher in spring, Orange-crowned Warblers in the brush. Both Rock and Canyon Wren have been seen along this trail. Western Grebes frequent this deeper end of the lake outside the breeding season.
For birding the rest of Emigrant by foot, bike or car, you must return to Highway 66.
South from emigrant lake park entrance
0.6 miles:
Just south of the mailbox for 5825. Take the dirt road on your left, heading east. It crosses a steep sided berm. Below the road level, on your left is a berry tangle with aged apple trees. Here are California Quail, Spotted Towhee, Scrub-jay. In winter you should find sparrows: Fox, Lincoln's, Golden-crowned, White-crowned and resident Song. North of the road (on your left) is an old apple orchard. Waxwings love the choke cherries in this thicket. The brushy area will harbor Black-headed Grosbeaks and Western Tanager n August as they prepare for migration. I've seen Pacific-slope and Willow Flycatchers here on passage in late summer. On your right you overlook a marshy edge to one finger of the reservoir. In wet winters the water will reach to the bottom of the road's berm. By early autumn—before the rains begin—it will have receded a hundred yards or more. Green Herons hunt here, nesting in the willows along the lake's western high-water shoreline.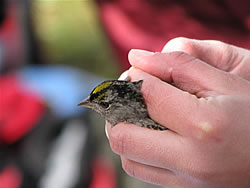 At the end of this short road is a parking lot with a toilet. Here is the pioneer cemetery. In summer: Ash-throated Flycatcher and Western Kingbird may be found here. Year-round: Oak Titmouse, Spotted Towhee, Lesser Goldfinch, Western Bluebird, Scrub-jay, Crows, Mallards, Blue and Green Heron along the lake. In winter: Juncos, Golden-crowned Sparrows. Spring migrants may include various warblers, Warbling Vireo, American Goldfinch. The summer gulls are usually Ring-billed. Occasionally a Caspian Tern will pause on passage. At any time this can be good raptor watching spot. Here I've seen the ubiquitous Red-tailed Hawk, also Red- shouldered Hawk, White-tailed Kite, Peregrine, Bald Eagle, Golden Eagle, Turkey Vulture (Mar-Oct.) and Osprey (Mar.-Oct.). Look south toward the oak-covered knolls for perching Bald Eagles. Especially in fall and winter check the shoreline and lake: peeps, dowitchers, Spotted Sandpiper, ducks, grebes, Great Egret, Tundra Swan, and a migrating Common Loon are all possible here.
1.0 Miles Dirt road leaves Highway 66 and runs down toward lake shore. In summer this road is passable and will take you near the lowering lake level as water is drained off the reservoir for irrigation. The willows and brush in the draws can attract numerous wintering birds. Watch wires and fences for Western Kingbird in summer and late spring.
1.4 miles: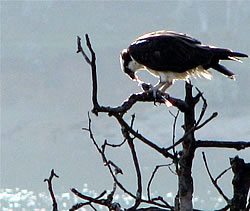 Another dirt road on your left, next to a row of mailboxes. This road goes down to a gravel parking lot with toilet building. The brush here harbors sparrows and both towhee species found at this elevation. It's the best spot around Emigrant Lake for California Towhee. Cousin Spotted Towhee is everywhere around the lake. The oaks and scrub also have Acorn Woodpecker, Western Bluebird, White-breasted Nuthatch, Lesser Goldfinch. In summer you may find Ash-throated Flycatcher. Flickers and sparrows should be around in winter. Walk toward the lake and expect both Green and Blue Heron. In fall the dried lake bed above the waterline attracts passing American Pipit flocks. The edge of the irrigation-lowered lake will harbor shorebirds on their southward migration in August and September: Western and Least Sandpiper, Spotted Sandpiper, Semipalmated Plover are regular birds of passage. Watch for a possible Baird's or Pectoral Sandpiper.
The trail that leads north from this parking lot to the oak-covered knoll passes along the steep, treacherous edge of a rock quarry. It will be on your right (east side) as you head up the knoll toward its crest. There's always water in this quarry, even when land bridge cuts it off from the main reservoir. Quietly check it for fishing Belted Kingfisher, more secretive ducks in fall and winter. Bald Eagles often use the taller oaks on this hill to scan the lake for fish or Osprey to steal from. You could see White-tailed Kite hunting in this area as well.
1.8 Miles:

Old Siskiyou Highway, formerly Highway 99. On your right the highway winds southerly up through the forest toward Siskiyou Pass another two thousand feet up in elevation. On your left the road dead ends at traffic barriers and disappears beneath the lake surface. As you face north from Highway 66, there is a dense tangle of feral hedge roses on your right. This stub road is now called "Rosebud Lane" by local birders. Among the roses you may find finches and sparrows in winter, bush rabbits and California Quail year round. Migrant shorebirds found along the lake here include Solitary Sandpiper. The willow thickets may harbor several Green Herons at one time.
There is a trail that begins at the old farm shed and heads east toward Hat Creek with its riparian trees. South of Highway 66 here both Red-shouldered Hawks and White-tailed Kites have nested. There is a small Blue Heron rookery about a quarter mile south among the trees on farmland there. Just east of the creek behind the houses there is a small pond that shelters Bufflehead and other wintering waterfowl.
2.4 miles:
Milepost 7 on Highway 66. Open fields. Western Meadowlark, Western Bluebird, Lesser Goldfinch, Western Kingbirds in season. Red-tailed Hawks hunt here. California Ground Squirrels and Black-tailed Jackrabbit abound.
2.8 miles:
Turn left onto Old Greenspring Highway, another road that disappears beneath the lake. It is 0.7 miles to the parking lot and toilet building that sits just above high water mark. In late summer you can drive ahead to the lowered lake level. Good spot for winter waterfowl viewing. I've seen Merlin and Tundra Swan along the shoreline, Lewis's Woodpeckers on the oak-covered slopes uphill. The hedges along the houses hold Western Scrub-jay, sparrows, finches, goldfinches. Western Bluebirds are regular in the open fields. Ground squirrels scurry along the road in mild or hot weather.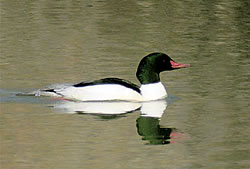 3.2 Miles, Songer Wayside:
Parking lot, toilet building. Another old road disappearing beneath the lake surface. Good views of the southeast finger of the lake. Red-shouldered Hawk and Acorn Woodpeckers regular here. Also Common Mergansers may retreat to this part of the lake if there are too many boats in the broader waters.
3.5 Miles:
Pull-off on the lake side with view of southeastern finger of the lake.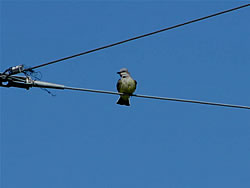 4.3 Miles:
Another section of the Old Greensprings Highway and the bridge over Emigrant Creek. This road runs about a half mile along the shore of the eastern most finger of Emigrant Lake. The willows along Emigrant Creek and the shallow end of the lake attract migrants in spring and fall. I've seen dozens of Western Tanager here as they begin to collect for fall migration. In the fields upslope: Lark Sparrow, Western Meadowlark, Western Kingbirds and Bluebirds, Mourning Dove. In the willows: Downy woodpecker, Song Sparrow, Bewick's Wren, Western Wood-Pewee, Bullock's Oriole. Scrub-jays galore.
4.6 Miles:
Intersection on your right (south side) with Buckhorn Springs Road. This dirt road parallels Emigrant Creek for some distance. At the bridges look for Dipper. Along the road: Tree and Barn Swallow, Western Bluebird and Kingbird, Acorn Woodpecker, Black- headed Grosbeak, Lesser and American Goldfinch, Pine Siskin (winter),White-breasted Woodpecker.
Checklist
Greater White-fronted Goose
Snow Goose
Canada Goose
Tundra Swan
Wood Duck
Gadwall
American Widgeon
Mallard
Northern Shoveler
Green-winged Teal
Ring-necked Duck
Lesser Scaup
Bufflehead
Common Goldeneye
Common Merganser
Ruddy Duck
California Quail
Common Loon
Pied-billed Grebe
Eared Grebe
Western Grebe
Clark's Grebe
Double-crested Cormorant
Great Blue Heron
Great Egret
Green Heron
Turkey Vulture
Osprey
White-tailed Kite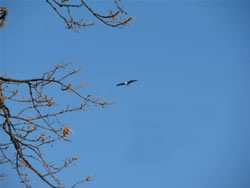 Bald Eagle
Northern Harrier
Sharp-shinned Hawk
Cooper's Hawk
Northern Goshawk
Accipiter sp.
Red-shouldered Hawk
Red-tailed Hawk
Golden Eagle
American Kestrel
Merlin
Peregrine Falcon
American Coot
Sandhill Crane
Semipalmated Plover
Killdeer
Spotted Sandpiper
Western Sandpiper
Long-billed Dowitcher
Wilson's Snipe
Ring-billed Gull
California Gull
Herring Gull
Caspian Tern
Rock Pigeon
Band-tailed Pigeon
Eurasian Collared-Dove
Mourning Dove
Vaux's Swift
Anna's Hummingbird
Rufous Hummingbird
Belted Kingfisher
Lewis's Woodpecker in fall and winter
Acorn Woodpecker
Downy Woodpecker
Hairy Woodpecker
Northern Flicker
Olive-sided Flycatcher
Western Wood-Pewee

Willow Flycatcher on migration
Empidonax sp.
Ash-throated Flycatcher
Western Kingbird
Steller's Jay
Western Scrub-Jay
Black-billed Magpie
American Crow
Common Raven
Tree Swallow
Violet-green Swallow
Northern Rough-winged Swallow
Cliff Swallow
Barn Swallow
Black-capped Chickadee
Oak Titmouse
Bushtit
Red-breasted Nuthatch
White-breasted Nuthatch
Bewick's Wren
American Dipper
Golden-crowned Kinglet


Ruby-crowned Kinglet
Western Bluebird
Hermit Thrush
American Robin
European Starling
Cedar Waxwing
Orange-crowned Warbler
Yellow Warbler
Nashville Warbler
Yellow-rumped Warbler
Black-throated Gray Warbler
Wilson's Warbler
Western Tanager
Spotted Towhee
California Towhee
Chipping Sparrow
Lark Sparrow
Savannah Sparrow
Fox Sparrow
Song Sparrow
Lincoln's Sparrow
White-crowned Sparrow
Golden-crowned Sparrow
Dark-eyed Junco
Red-winged Blackbird
Western Meadowlark
Brewer's Blackbird
Brown-headed Cowbird
Bullock's Oriole
Purple Finch
House Finch
Pine Siskin
Lesser Goldfinch
American Goldfinch
House Sparrow