Mountains Lake Circuit - Part 1
With a dawn start this can be a half day drive into the mountains east of Ashland, Oregon. It includes habitats and birds not found in lowlands. The more time you have, the more places you can stop. If you leave Ashland you'll bebgin at about 2200-feet in elevation and climb up above 5,000.
There are commercial establishments that sell food and drink, even lakeside marinas where boats can be rented. Campsites and rental cabins are found in several spots. This drive is especially worthwhile in spring or early morning in summer before the heat sends most birds and people into daily estivation.
With a dawn start this can be a half day drive into the mountains east of Ashland, Oregon. It includes habitats and birds not found in lowlands. The more time you have, the more places you can stop. If you leave Ashland you'll begin at about 2200-feet in elevation and climb up above 5,000.
There are commercial establishments that sell food and drink, even lakeside marinas where boats can be rented. Campsites and rental cabins are found in several spots. This drive is especially worthwhile in spring or early morning in summer before the heat sends most birds and people into daily estivation.
00 miles: The western terminus of Dead Indian Memorial Road where it turns east from Highway 66
This road begins just south of I-5 Exit 14, turn east from Oregon Route 66 which intersects with I-5 at Exit 14. Your elevation. This is near the junction of the creeks that join to form Bear Creek which drains this valley and takes the water north into the larger Rogue River.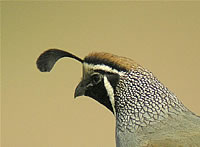 01 mile: Ranchland and riparian habitat
Here the road parallels Walker Creek (right-hand) as you head generally east. The trees are mostly deciduous at this low elevation: oak, cottonwood, willow, alder. Anywhere oaks predominate on this route, listen for Acorn Woodpeckers laughing. They are year-round residents and always in colonies. Spotted Towhee, Western Scrub-jay, American Crow, Black-capped Chickadee, Tree Swallow. Expect Oak Titmouse and White-breasted Nuthatch where oaks predominate. Flycatchers in this area: Western Wood-Pewee and Pacific Slope. Western Kingbirds will hawk larger insects from utility poles where they often nest. Hummingbirds will be Anna's and Rufous. Bullock's Oriole and Black-headed Grosbeak nest here in summer. Bushtits and Black-capped Chickadees glean through the foliage. California Quail live in the dens underbrush of the north-facing slopes.
02 miles: Open grassland and small ponds
American Kestrel, Brewer's Blackbird, Barn Swallow, Western Kingbird. Western Meadowlarks and Lark Sparrows sing in May and June.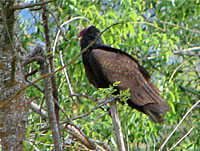 2.8 miles
Pull-outs here on both sides of the road, on the south side it's gravel and right next to the riparian forest. On the north it's paved and offers clear views up the slope, which is largely grass-covered. Excellent spot for Kingbird, Western Meadowlark, Lark Sparrow. In spring there could be warblers and vireos along the creek, Spotted Towhee tear-round. Turkey Vultures and Red-tailed Hawks possible anywhere on this route. TVs rare during winter months.
03 miles
Dry pastures continue. In some places there is no road shoulder. Watch for generous pull-outs at some road elbows. Watch for Beechey's Ground Squirrel on perches above the grass tops. Mourning Dove, Brown-headed Cowbird, Brewer's Blackbird, Scrub-jay. Excellent pull-out at 3.3 miles on south side of road, right alongside the creek.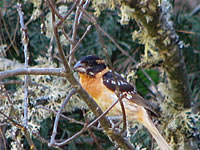 04 miles: Steep slope, with fine views down to the west and south
Volcanic rocks exposed. Bullock's Oriole flies up from the creek to chatter at us then we get out of the car. Bushtits nest along here as do Bullock's Oriole. Also present: Acorn Woodpecker, Oak Titmouse, Black-headed Grosbeak, Chipping Sparrow, Western Meadowlark which even in summer will occasionally give forth one of America's finest bird songs. It was Audubon himself who first recognized the Western Meadowlark was a separate species when he heard them singing along the Missouri River in Nebraska as he made his only trip west of the Mississippi after he'd become famous as a bird artist. Earlier naturalists, including Townsend and Nuttall, had assumed there was only one kind of meadowlark as they looked so much alike.
04.6 miles
Another good pull-out on south side of the road. Mourning Dove, Scrub-jay, Crow. Golden Eagle possible in this open woodland terrain. Views here are marvelous. To the west is Ashland town nestled in its valley. To the southwest Mount Ashland with snow often lingering into June, rising over 7500 feet at the crest of the Siskiyou Mountains. To the north is Grizzly Peak, part of the Cascade Range.
05.2 miles
Large wooden cattle chute and corral on north side of the road. A thin-soiled hillcrest with sparse oaks and grass that dries out in summer. Western Kingbird, Violet-green Swallow, Bullock's Oriole, Lark Sparrow, Lesser Goldfinch, Brewer's Blackbird, Cowbird, Western Meadowlark.
06.5 miles
Road continues to climb, first evergreens in the woods. Ponderosa and Douglas-fir mix with oaks and madrone. Underbrush on south-facing slopes includes sage, confirming the annual drought of the sunny summers.
06.8 miles
Shale City Road junction on the left. This road climbs steeply and connects to dirt road that leads to trail head for climb to top of Grizzly Peak. This mountain forms the brow of the western face of the Cascades. Grizzly Peak rises over 5900-feet. It is said to be one good place to watch for Great Gray Owls on meadow edges.
07.3 miles
Cove Road turns south down a steep ravine holding Cove Creek. This ravine is filled with evergreens. A likely place for MacGillivray's Warbler, Pacific-slope Flycatcher, Western Tanager, Black-headed Grosbeak, Spotted Towhee, sparrows and other gleaners in the spring.
08 miles
Some of highest elevation oak forest on this route. Acorn Woodpecker year round. Lewis's Woodpecker possible in winter. California Quail.
09 miles
First ceanothus and elderberry bushes seen along the road. The ceanothus here may be either white or blue when blooming. There are at least three species of white ceanothus around here and four blue species. There are two native elderberries, both with creamy flowers in June. One species has red berries, the other has blue ones. Both attract numerous birds and bears when the berries ripen in late summer.
09.3 miles
On south side of road down a steep slope check for a tarn in a damp meadow. Good spot for winnowing Wilson's Snipe in May and June, other water-loving birds any time of the year.
11 miles
Sage now seen along roadside beneath the evergreens
12 miles: pull out on right
The upslope to the left(north) of road is dry and rocky. To the right is forest. Junco, Spotted Towhee, Tree and Violet-green swallow, Yellow-rumped Warbler. Further up Shale City Road rejoins this main road from the left (north).
13 miles: Pull out overlooking lush mountain meadow
Wildflowers abound here this July. Steller's Jay. Lesser Goldfinch, Western Tanager gives his cranking call, Spotted Towhee. From the trees I hear an accipiter call, perhaps a Cooper's Hawk though all three accipiter breed in these mountain woods. Listen here for calls and drumming from woodpeckers. Listen for songs of Varied or Hermit Thrush, possibly even Blue or Ruffed Grouse.
On this prairie between mile 13 and mile 15 is good in cold weather for raptors including Bald Eagle, who get the biggest share of carrion, as the Turkey Vultures have migrated south and don't return until late winter. But the big eagles still must compete with the Ravens.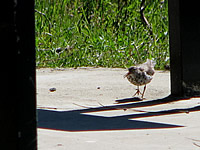 Mature evergreen forest along the road. Mountain meadow here has Beechey's ground squirrel which you may spot sitting atop a fence post. In April and May you can catch the Wilson's Snipe winnowing, a whistling sound made with its wings. Later in the season there'll be Spotted Sandpiper fluttering along the streams through the dense grass. Here the Sandhill Cranes sometimes feed. Yellow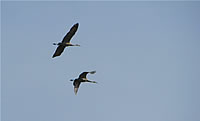 Warblers, Lazuli Bunting, Cliff Swallows, Kestrel, Robins.
17.2 miles
Dirt road goes north from DIMR here, this is know as "Ditch Road," as it follows an irrigation ditch bringing water down to Howard Prairie Lake. IT is good late spring and summer birding with both forest and scrub habitat: Lazuli Bunting, Green-tailed Towhee, woodpeckers, flycatchers.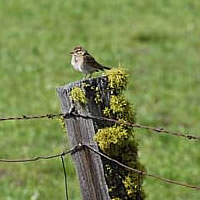 17.3 miles: northwest corner of Howard Prairie Lake, Intersection
Here turn right off Dead Indian Memorial onto Hyatt Prairie Road. Note the next box on the wooden sign, nest on the south end of sign. It's often used by Mountain Bluebirds. Check for them along fence lines as well. Other fence posts birds here include Savannah and Vesper (look for an eye-ring) Sparrows. The latter has a true song while the Savannah buzzes softly and often has yellowish tint on the face. The damp meadow east of Hyatt Prairie Road stretches to the shore of Howard Prairie Lake. This is a favored feeding and perhaps nesting site for Sandhill Cranes. They return as early as April when snow is still on the ground. There'll undoubtedly bee dozens of Canada Geese. In spring and summer the huge white birds are likely White Pelicans though geese are not impossible visitors on migration.
Before the camping season you can continue east on Dead Indian Memorial Road about a half mile to Lily Glen horse camp, and walk about there to get close to Vesper Sparrows. There's a large colony of Cliff Swallows at the restroom building there.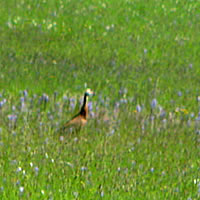 About 300 yards south of DIMR on Hyatt Reservoir Road on your right is a fire trail with metal gate. From here you can scope the north end of Howard Prairie Lake where waterfowl are most abundant. In woods are Chipping Sparrow, Bewick's Wren, Tree and Barn Swallow, Yellow-rumped Warbler. Listen for woodpeckers and Red-breasted Nuthatch's little tin horn call. This meadow in evening is supposed to be one good place to look for Great Gray Owl, a specialty of this area. I have yet to find one here or at any of the other local hot spots. In late May 2007, there were three Sandhill Cranes foraging in this lakeside meadow. The species has bred near Howard Prairie in the past. They were present all spring, 2008, as well. Adults tinted their feathers red using iron-rich mud.
18.0 miles: Cattle crossing with easy pull-out on east side of road.
Good place to study the meadows and its birds and wildflowers. The small meadow west of the road here is bordered by large evergreens and is said to occasionally hold a Great Gray Owl.
19.3 miles
Drive south past Grizzly Creek camping ground on the left.
20 miles: Howard Prairie Recreation Area entrance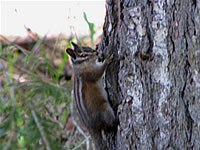 You are about 5,000 feet above sea level now. Turn left onto dirt road to marina, store, campgrounds. There is a cafe here that serves hot meals during the summer season. There's $4 day use charge in 2008. Here you can rent boats on go onto lake. Do this. $40 for five hour half-day use of 18-foot aluminum flat bottom with outboard motor. You can also rent by the hour. There are canoes but be aware there are power boats and an occasional jet ski on the lake. Most people come here for the rainbow trout fishing. Expect Golden-mantled Ground Squirrel around the parking lot and the store. Barn Swallows nest under eaves of the store as well. Here are islands to explore, birds to see, a chance to go ashore for a quiet picnic. Carry water, sunscreen & camera in addition to your binoculars. Get map of lake from marina, even if you intend to hike the lake shore to reach the north end. It's about a two-mile hike in one direction, past campgrounds and through woods. I recommend the freedom and fun of a boat.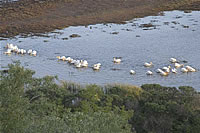 As you face the lake from the marina, north is to your left and the north end of Howard Prairie Lake has plenty of shoreline marsh for waterfowl. Toward the right is the dam and deeper, more open water. Heading north from marina you will soon pass Doe Island where we saw a Bald Eagle. Locals believe there's a nest on the island but we couldn't see it from the boat. You can get pretty close to the island or land if you desire. It's covered with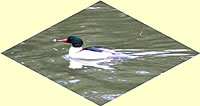 evergreens. To reach the far north end you go through a narrow but deep-enough channel before the lake opens into a broad but shallow Y-shape. At the north end of Howard Prairie Lake we found over 50 White Pelicans loafing on small islands or fishing. Ace birder and bird-book author, John Kemper tells us these pelicans are not breeding at the lake. They may be immature birds spending their summers there. And can be seen in spring and through the summer. We passed several female mergansers, one trailing a string of 20 ducklings. The Canada Geese are ever prolific and fertile. It was at this lake many years ago where I first saw two Bald Eagles bully an Osprey until it dropped its fish, which the lower flying eagle immediately swooped in to snatch in mid-air.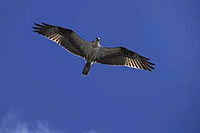 Bald Eagle, Osprey, Ravens, Canada Geese, White Pelicans, Clark's Grebe, Common Merganser, Mallard, Double-crested Cormorant, Ring-billed Gull, Herring Gull, Turkey Vulture, Spotted Sandpiper, Killdeer, Tree and Barn Swallow, Vaux's Swift, Red-winged Blackbirds. Coots can be found along with possibly migrating ducks. Duck species included Bufflehead, Lesser Scaup, Common Goldeneye, American Wigeon and Green-winged Teal.
On the lake in this season the small flying insects float through the air like bits of dust, some with glossy wings that reflect back a golden color in the sunlight. Zapping through these myriad nanocraft are the larger damselflies and some truly impressive dragonflies. The small blue darters were abundant. We also encountered bronze winger dragonflies, ones with four zebra-striped wings and a couple large electric blue jobs that looked like jetliners next to tiny flies and gnats. Despite the density of insect life we did not encounter a mosquito.