SNOW, BUT SPRING MAKES A SHOWING
There's been snow for three straight nights in the mountains. Down here in the valley the nights and mornings are cold. But daffodils, dandelions, violets and manzanita bloom. On a damp hillside I noticed some forget-me-nots [Myosotis sylvatica] blooming. They are an introduced weed, but a cheery blue color. And migrants continue to push north.

We had several groups of Turkey Vultures passing by. Some'll go as far north as British Columbia. Others have recently settled back into their evening roost just a few miles north of Ashland. That's the Phoenix roost right next to I-5.
There was one small cluster of Tree Swallows that passed overhead. In a mistletoe-filled oak there was a flock of Yellow-rumped Warblers, feeding as if their lives depended on it. Which...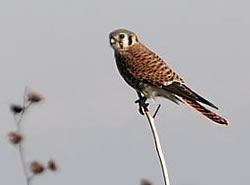 Red-winged Blackbirds are in full voice and nesting mode. Epaulets flashed over every clump of cattails. A pair of Wrentits were quite visible and the male climbed to the giddy height of ten feet, giving us clear, lingering views. This "American Babbler" is usually a skulker and clings to the low brush in a limited life-long territory. No migrants they.
If there's any doubt that testosterone is flowing: a pair of Kestrel copulating high in a still-leafless tree. One of the mated Red-tailed Hawks was standing in the stick nest they'll perhaps repair and re-use along Bear Creek. One WT Kite and one Cooper's Hawk filled out our raptor roster for the day. The Mourning Doves were all in pairs. So were the Black-capped Chickadees and White-breasted Nuthatches. Downys, Acorns and Flickers were active in clear view. A shy Red-breasted Sapsucker fled before we got a good view. They'll be moving uphill along with spring weather.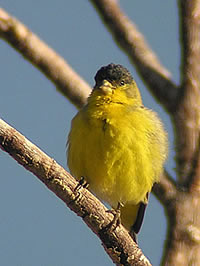 Surprising bird of the day: a Great Egret following along behind a Blue Heron. Both appeared to be heading toward Emigrant Lake south of town. The Great Egret does not breed hereabouts but is a wintering bird only. There is a large heronry of Great Blues on the north bank of the Rogue River at Touvelle Park, north of Medford about sixteen miles north.
Today's best vocals by: Song Sparrows, RW Blackbirds, Purple Finches atop willows just budding out, Lesser Goldfinch males in full spring regalia. The Purple Finches will not nest here on the valley floor but eventually move uphill as the seasons progress.
Location: Bear Valley Greenway--Ashland
Observation date: 3/16/08
Notes: Copulating Kestrel. Nesting Red-tailed Hawk. Migrating Tree swallows, YR Warblers and Turkey Vultures.
Number of species: 41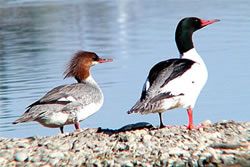 Canada Goose 12
Wood Duck 40
Mallard 10
Common Merganser 2
Great Blue Heron 1
Great Egret 1
Turkey Vulture 22
White-tailed Kite 1
Cooper's Hawk 1
Red-tailed Hawk 3
American Kestrel 2
Rock Pigeon 20
Mourning Dove 11
Anna's Hummingbird 1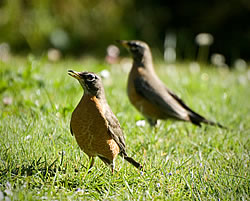 Acorn Woodpecker 2
Red-breasted Sapsucker 1
Downy Woodpecker 3
Northern Flicker (Red-shafted) 3
Black Phoebe 1
Western Scrub-Jay 15
American Crow 1
Tree Swallow 4
Black-capped Chickadee 8
White-breasted Nuthatch 2
Bewick's Wren 1
Ruby-crowned Kinglet 1
Hermit Thrush 1
American Robin 15
Wrentit 2
European Starling 30
Yellow-rumped Warbler 8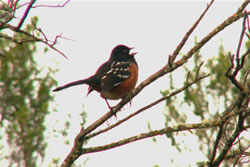 Spotted Towhee 10
Fox Sparrow 2
Song Sparrow 7
Golden-crowned Sparrow 16
Dark-eyed Junco (Oregon) 1
Red-winged Blackbird 20
Brewer's Blackbird 25
Purple Finch 18
Lesser Goldfinch 14
House Sparrow 5
This report was generated automatically by eBird v2 (http://ebird.org/Klamath-Siskiyou)