New Bird in Town (written in 2005)
The Eurasian Collared-Dove (Streptopelia decaocto) is spreading rapidly in North America—so rapidly that it's outrunning the traditional methods of recording avian populations. In a field guide copyrighted 2001, the range map for the dove shows the species confined to the Gulf Coast east of Texas. This past summer, doves were seen regularly near Lobos Dunes and Lake Merced in San Francisco.
A century ago, the species was found primarily on the Indian subcontinent. It then began moving westward. Doves first bred in Britain in 1955 and are now found all over that country and Ireland. One reason is the apparent innate tendency of young doves to disperse toward the west. In the 1970s the species was released accidentally in the Bahamas. In the 1980s birds reached Florida on their own. After a little more than two decades, the doves are in California.
One of the best methods of following this fast-moving species is the Internet. I urge fellow birders to join informal dove-watchers by signing up for eBird (www.ebird.org). Developed by the National Audubon Society and the Cornell Lab of Ornithology, this interactive site enables birders to track any species they see in North America. After you register on eBird, you can record your observations and also compare your records with those from other birders. Many Bay Area birders already post their sightings, and familiar local destinations have been registered on eBird as hot spots, from Hawk Hill and Corte Madera Marsh in Marin County to Lake Merritt and Arrowhead Marsh in Oakland. Numerous San Francisco locales are listed, among them Lobos Dunes, Lake Merced, and Golden Gate Park. You can even add your own backyard.
What can eBird tell us already about the collared-dove? In California it is most often seen around Ventura County and Santa Barbara. It has also been observed along the north coast in the Eureka area and occasionally in the Central Valley. As eBirders share their sightings, it will be possible to follow not only the dove's spread but its habits. Do the doves breed here? Given the bird's diet of grain, fruits, seeds, and some insects, will Mourning Doves or other suburban or farmland birds be impacted? Currently, there is no clear evidence from the bird's invasion of Europe that it has harmed other species. As of this writing, the collared-dove has not been seen in the East Bay. Already one birder emailed me that the doves are breeding on her street in Half Moon Bay which is on the San Mateo coast. That's less than twenty-five miles from San Francisco, as the dove flies.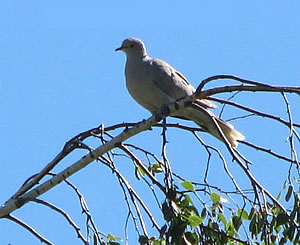 Northern Mockingbirds, Hooded Orioles, European Starlings, Brown-headed Cowbirds, and Common Ravens are among the dramatic avian population explosions in the Bay Area. This time birders have a chance to contribute detailed observations as the Eurasian Collared-Dove spreads faster than field guides can reach bookstore shelves.
2010 UPDATE
The ECD is now seen regularly as far north as Canada. They nest in large numbers along the Oregon coast. Here's a photo I've taken of them here in Ashland, Oregon. An interesting way to follow the rapid colonization of America by ECD can be found in the annual Christmas Bird Counts as the bird is sedentary. Once settled into a new area, it does NOT migrate.
Another bird colonizing much of the same area in the western U.S. is the Great-tailed Grackle, a native American species. Its spread has been much more gradual.