KLAMATH KNOT
Well, thanks to the foresight of fellow Auduboner, Bob Quaccia, he and Dennis Vroman and I had a worthy birding invasion of our neighboring state. Each of us has spent much time in California so it wasn't like a totally foreign country. And when we got about forty miles southwest of Ashland and into the Klamath River Basin we were met by local birding expert Bob Claypole. That Bob literally wrote the book, Klamath Basin Bird Finder.
The stated purpose of our trip to see and hear the California Thrasher, now in voice in this part of the Klamath Knot. The bird is rare and not known to be regular nester just north of the Siskiyous in Oregon where we'd begun the day. Bob Q took us straight to Brushy Gulch, at milepost 98.01 on California Highway 96, a few miles west I-5. That's north of Yreka for those of you following along on a map. We walked about a hundred yards up an eroded, overgrown logging road.
The habitat, which you see in the picture above, was dense shrubs and a few trees. The latter were juniper, oak, western red cedar, ponderosa pine, cottonwoods in the creek bottom. The chaparral included poison oak, ceanothus, buck brush, silk tassel and manzanita. We were about 2000 feet in elevation, and climbed to about 300 feet above the Klamath River itself.
Not far from the roadway we began to hear singing Thrashers. Here's William Dawson's florid description in his 1923 Birds of California:
"Homely Apollo, historian of the chaparral, poet of the common wood, apostle of dewy morn, mediator of sun and shadow, woodland recluse, and shy intimate of back-yard tryst, minstrel alike of blue-gray-green spring and dun summer, brown wraith of California, thou dost work alike havoc in our gardens, harmony in our ears, and a heavenly hubbub in our hearts. Would, oh, would that there were more of thee..."
Scarcity based on small numbers and habitual shyness of the performer who runs to the dressing room after each performance and refuses to greet the public. This morning, with Mr. Claypole's expert eyes and ears, we found one of the singers. He was atop a bush about fifty yards uphill from us. And there he sang for us his mimicry and melodies. Numerous and varied. It's believed his cousin the Sage Thrasher's a world record-holder with over 2,000 individual songs to sing. This morning's tenor was no piker. And, unlike his cousin the Mockingbird, the California Thrasher prefers to rip through tunes one time each with little immediate repetition.
It is his preference for shyness, the marvy curved beak, the singing that make this Thrasher so attractive to birders on an early spring day. I must say he sang his best when the sun bored through the heavy clouds and lightened the hillside.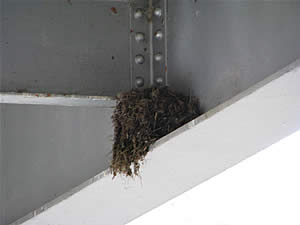 The junipers were the center of much bird activity. There were numerous oaks on the west facing hillside and thus Oak Titmouse, Black-capped Chickadee, Acorn Woodpecker, Flicker. In the brush: both local towhees, Golden-crowned and Fox Sparrow, Wrentit (which we never saw), Bewick's Wren. But in the junipers it was a thrush festival: Robins abounding, Varied Thrush calling and pretending to disappear. And Townsend's Solitaire, calling, posing, feeding, flying from one juniper to another. As we stood and waited for the thrasher concert we were clearly visible, but the Solitaires were not as solitary as usual. Through most of our time at Brushy Gulch Mountain, Quail were calling from well up the hillside. No sighting, as usual.
From Thrasher HQ Claypole took us downstream to the Beaver Creek Bridge. There on the northernmost I-beam beneath the bridge we were shown the new Dipper nest. Both would-be parents were in the stream and twice a bird flew into the nest with material for interior work.
The photo shows the moss-covered exterior. The nest's diameter is about eight inches. The entrance is a hole on the side away from my camera. We wish the Dipper Family all the best in the coming season.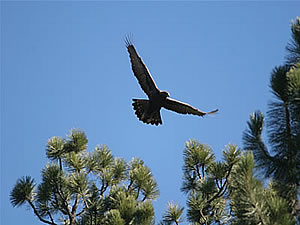 There we left Claypole on his turf and headed back toward I-5. There was one more birding stop, mid-day at Tree of Heaven Campground right on the Klamath River. A rock-covered hillside finally revealed the Canyon Wren we knew was there… somewhere. A Golden Eagle was soaring above the ridgetop, five hundred feet above the river's edge.
I forgot to mention: we saw Lewis's Woodpecker on both legs of the trip about two miles west of I-5, right along the river. In the river itself: Canada Geese far from the nearest golf course, Common Merganser, Wood Ducks, Mallard, Double-crested Cormorant, Blue Heron.