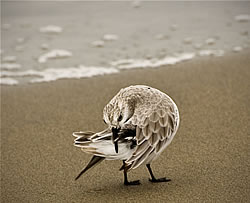 From time to time, unsolicited testimonials are received at Towhee.Net. Our first example is in the form of extracts from an e-mail correspondence between Judith Dunham (author, editor and keen birder) and May Woon, expert bird photographer (see some of her photos in our Gallery).
From Judith Dunham to May Woon:
I am the editor of the Golden Gate Audubon newsletter. We were in touch some time ago when you kindly provided a photo or two for use with Harry's articles about the history of birding in the Bay Area.

Now we're getting ready to publish an article not by Harry--but about Harry, thanking him for his generosity over the years, for the articles he has written, for the classes he has taught, and for the many field trips he has led. I've been in touch with him about the article, which I'll be writing. It will be more of a profile about Harry as a birder and volunteer and about his involvement in birding over the years.

A couple of months ago, Harry forwarded to me some really nice photos you took on one of Harry's Merrie Way trips. I saved them, knowing that we'd profile Harry at some point, and I'm wondering if you could provide high-res versions for publication...

... We'll all miss Harry--tomorrow is his last field trip--but it must be exciting for him to be exploring a new path.
From May Woon to Judith Dunham:
Here's a few photos from Harry's birding trip from today...

... Harry is a wonderful teacher, and I love the detailed information he gives about the birds at different times of the year and which birds are residents and when certain birds leave or come back...
---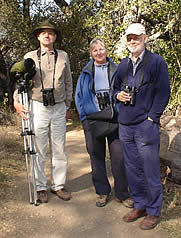 From Terry, an Englishman visiting California:
Have now been back home in Norfolk [UK] for five days after returning from our trip to California followed by a visit to my elderly mother, it was a great holiday.
I finished with 178 species and 84 'lifers', I must say how much we all appreciated your guiding, as Bob said, not just the birds but your historical knowledge and great sense of humour, as when you described the five black oystercatchers leaving Land's End as a group of 'unruly teenagers' returning with one missing, if you remember.
...
I do hope that your retirement and moving plans work out well and it would be a delight to go out birding with you again if ever we were in Oregon.
---
And again from Terry:
Thanks again for all your help on that trip - we have many happy memories. Remember the Roadrunner? Have you moved to Oregon yet? Perhaps we will be able to get over to your new state and do some more birding some time in the future?!
---
From Jeff Skrentny, aka "Birdman":
Thanks for the help Saturday, first seeing the American Bittern, and second with ideas on where to bird to get a few target birds.
I ended the day with 7 new life birds Saturday...I had found the Heerman's Gull and had a look at a Townsend's Warbler before I met you, and after I met you I got better looks at numerous Townsend's at Sutro Hill along with a single Black-throated Gray that passed through about lunch time with a large group (200+) of Yellow-rumps, Chestnut-backeds, both Kinglets and two Fox Sparrows. I did not find any Pygmys.
...
So thanks to your help, I got 5 new lifers Saturday...Black-throated Gray, Snowy, Clark's, Tropical Kingbird and Common Murre...THANKS! I had 14 lifers on my whole San Fran trip, not as many as hoped, but a nice reward.
Next time I am in San Fran I hope I will be able to hook up with you for some birding.
---
From Billy Simons:
Thanks again for taking me birding in SF, CA. I did find the Red-breasted Mergansers at Crissy Field, just like you said I would. I also saw the flock of parrots at Ft. Mason, but how could I have missed them-loud and colorful.
Here were my first birds that you showed me (15 counting the merganser):
Chestnut backed Chickadee
Brewers Blackbird
Pigeon Guillemot
Western Grebe
Common Murre
Allen's Hummingbird
Pygmy Nuthatch
Clark's Grebe
Marsh Wren
Steller's Jay
Hooded Oriole
Olive-sided flycatcher
Black headed Grosbeak
CA Quail
...
---
From Jim Conway:
Thank you for the great birding trips in San Francisco! I learned a great deal and had fun at the same time...
I promise to contact you when we visit Ashland next year. I'm thinking about a long weekend in the Spring and another in the Fall.
---
From Christine Holmes:
Thank you for the extra-long birding walk which you beautifully guided this morning, I so enjoyed it. We were lucky the rain held off until the end!
I'm only sorry this was your last before leaving SF. I would love to be included in The Further Adventures of Harry Fuller. Would you place me on your email list for updates?
I've already looked up the Wandering Tattler and the Elegant Tern - thanks again so much for sharing your knowledge and enthusiasm.
---
More from Christine Holmes:
What wonderful bird stories you tell, and honestly I think the birds wait for you and appear when you go out for your walks!
---
From Judge Ronald Stovitz and Danell S. Zeavin (whom we showed around the Ashland area on May Day):
Visions and sounds of birds still swirl in our heads. Thanks again so much for this extraordinary, memorable day. Thanks also for e-mailing the photo of the Canadian geese with goslings. We have read your account of our day together and amaze at the details you recall. We can only wish for even a little of your amazing ability to identify sounds and visuals in a nano-second. When we arrive home, we will send you a more formal thank-you for such a splendid day. We are so grateful.
Danell and Ron.
---
From Griggs Irving:
FIRST I want to thank you for a wonderful morning birding Ashland. BURNED in my memory is the Calliope Hummer with his mini-yet-magnificent necklace. I was also deeply moved by the Williamson's Sapsucker - the rarity thereof and the story of his discovery and the male/female difference. Your whole revelation of bird & animal root names (Stellar's, etc) gave yet more depth and interest to the whole gestalt of birding. I love towhees and you have primed my interest in searching out the green-tailed towhee. Thanks again for being such an informative and good natured birder/naturalist. Do keep me on your e-list for future trips you may lead.
Best regards,
Griggs
---
From Michele Harrison, after a weekend of birding in the Ashland area in January 2009:
Thanks so much for an absolutely wonderful weekend. Jerry (despite illness) and I learned so much from you. I want very much to return to the area and explore it in another season. You are a terrific teacher and I thank you for that. Jon Carroll had a column in the Chron on Monday talking about his search for the elusive Wood Duck. I've emailed him to tell him our experience and gave him your name. It was a cute article.
Thanks,
Michele & Jerry
---
From Mike and Pam Holmes of Pennsylvania, after a day's birding with Harry in June 2009:
Hi, Harry -- Thanks for sharing your write-up of our trip. Pam and I very much enjoyed birding with you. We also did well on the rest of our trip--we picked up all 11 species of woodpeckers, including another, longer look at the Williamson's Sapsucker. We also saw sage thrasher, tricolored blackbird, Cassin's finch, Black-billed Magpie, Gray Jay and the Vaux's Swift. We spent another morning hearing but not seeing mountain quail, so I guess we will have to return. Oregon is a beautiful state and we had a great trip. Thanks again for your help.
Mike Holmes
---
From Nancy Hubly in May 2010:
While planning a trip from my home in the Seattle area to the Bay Area (my former home), I stumbled across your account of birding I-5 from the Golden Gate bridge to southern Oregon (which I now see has been expanded to Portland, and I wish I had seen that before my trip!). Our trip down took us West from Grant's Pass to 101 and South to Santa Rosa from there, but I specifically planned the trip home on I-5 to check out some of your sites. I found 5 life birds along the way...
Your I-5 account was interesting, and I thank you for publishing it! I certainly made what is normally a boring drive a lot more exciting. I found your website interesting too, and may have to join one of your excursions next time I am in your area. Thanks again!
---
From B G Adams, after a birding trip in California, June 2010:
This was truly about as perfect a trip as we could have hoped for due in no small part to your locating skills. We appeciate all your hard work and even the "painful" puns. It was a joy to bird with you. One fine day I'm going to get to Oregon, and I will be looking you up for at least a day of quality birding time.