Oregon I-5 Birding (last updated January 4, 2011)
A work in progress…please send me any good suggestions and sightings for I-5 Oregon.
(See also our page on Birding San Francisco to Oregon.)
00 miles
Oregon/California border. This is the south slope of the Siskiyou Mountains. As you drive north Pilot Rock is the stone thumb on your right (east of I-5) while Mount Ashland is the 7500 foot peak to the left (west) of Siskiyou Pass which is over 4000 feet in elevation. It's the highest point on I-5 in the U.S. The highway connects San Diego with Vancouver, B.C.
06 miles
Mount Ashland exit. From here you can drive the paved road up to above 6000 feet and the parking area at the Mount Ashland Ski Lodge. From there the roads become rugged gravel Forest Service roads (details). If you go south on old Highway 99 and then east you can approach Pilot Rock and the Siskiyou Wilderness area.
14 miles
If you leave I-5 here and turn right you can take Highway 66 south to Emigrant Lake and then on to the Klamath Basin (Klamath Birding Trails). Or you can turn left (east) on Dead Indian Memorial Road which is the beginning of the Howard Prairie Circuit and leads toward Willow-Witt. As you drive north watch the grassy eastern slopes (Cascade foothills): Prairie Falcon and Bald Eagle possible in winter. Kestrel, Western Meadowlark, Turkey Vulture and Western Kingbird possible in spring and summer. Raven and Red-tailed Hawk here year round. Some winters the oak woodlands are home to Lewis's Woodpeckers.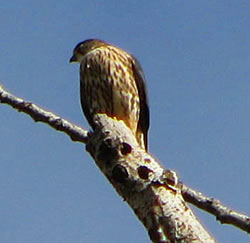 21 miles
Talent exit. Just west of the interchange on the south side of Valley View Road is Newbury Park. Birding here in winter can yield several duck species including Widgeon and Ring-necked. I have seen Merlin eating prey in the treetops. In spring and summer: Bullock's Oriole, Warbling Vireo, Yellow Warbler, black-headed Grosbeak, Spotted Sandpiper. Passing through in spring: Wilson's Warblers and Common Yellowthroat. Year-round; California Quail, Black Phoebe, Flicker, Downy Woodpecker, Wrentit, Song Sparrow, Green Heron, Pied-billed Grebe, Lesser Goldfinch.
30 miles
Exit here for Highway 62 which goes northeast to Crater Lake National Park and some tame Clark's Nutcrackers. The drive takes about 2.5 hours from I-5.
35 miles
Exit here onto Blackwell Road, then north to Gold-ray Dam. The Rogue River below the dam is good spot for Barrow's Goldeneye in the winter. Bald Eagles, Blue Heron and various wildfowl occur here all fall and winter. Also: Ravens, Cedar Waxwings in winter, Lesser Goldfinches. Tree Swallows in spring and summer.
42 miles
Here I-5 begins to parallel the Rogue River, following the river valley for 12 miles.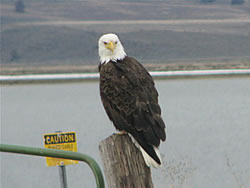 45 miles
Exit here to enter rest stop and attached Rogue River State Park. Bald Eagle, Osprey (spring and summer), Green Heron and Common Merganser possible on or over the river.
61 miles
Exit here for Merlin. What birder can resist a town like that? Near the exit I have seen Cooper's Hawk, Green Heron…You can drive 6.5 miles west to the Wildlife Images animal rescue center. Here are raptors, songbirds and mammals being rehabbed, and a few that can never be released due to injury. [link]
63 miles
Merlin rest stop. Watch for birds at north end of their range: Blue-gray Gnatcatcher, Oak Titmouse, California Towhee. Also likely are oak-lovers; Lazuli Bunting, House Wren, White-breasted Nuthatch, Acorn Woodpeckers, Lesser Goldfinch.
69 miles
Sexton Mountain Pass at elevation of 1960 feet.
109 miles
North exit to Myrtle Creek, you cross bridge over South Fork of Umpqua River. Look for Common Merganser in the river. As the road curves south you will notice SOCO Coffee House on your left. A stop here is worthwhile for any human on the road. Just one block south of SOCO, along the river in downtown Myrtle Creek, is a city park with RV hook-ups and ball field. In the brushy margins and cottonwoods by the river you may find Yellow-rumped Warblers and Townsend's Warblers in winter, also both kinglets in fall and winter. Black-capped Chickadees, Downy Woodpecker, and the usual sparrows (inc. Golden- crowned) in season. Resident: Spotted Towhee. The Myrtle Creek town motto : "Where Nature Is Your Neighbor." You could do worse.
129 miles
Exit freeway here and turn south parallel to northbound lanes. Park at overlook above dam on the North Fork of Umpqua River. Common and Hooded Merganser and other stream-loving birds possible here.
136 miles
Sutherin exit. Head west on Highway 138 to Fords Pond, about 1.5 miles. Good for wintering ducks and other water birds.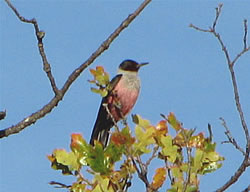 145 miles
Farm pond west of I-5 has held wintering Hooded Mergansers.
149 miles
Rest stop on northbound lanes. Wooded. Has Hermit Thrush in cold months. Check for Varied Thrush in deep shade.
176 miles
Rest stop north of Cottage Grove in March: Robin, Golden-crowned Sparrow, Black Phoebe, Spotted Towhee. Ponds in this area in winter may hold ducks, e.g. Ring-necked. Further north along the Willamette Valley expect: Canada Geese, Red-tailed Hawk, Kestrel, Blackbirds, Turkey Vultures, Blue Heron, Great Egret, both eagles in winter. I have seen elk near the highway in this area in winter.
192 miles
Eugene has several good birding sites. West of town on Highway 1226 is Fern Ridge Reservoir which has a colony of nesting Purple Matins, hard to find in the Pacific states. (Here's a link to the Lane Count Audubon Society.) They have info on free bird walks and recent sightings of interest. Eugene has numerous walkways along the Willamette, the upper reaches of the Willamette Greenway Park System that stretches from here north to Portland. In winter the airport open space hosts Northern Shrike, Merlin and other grassland loving hunters.
205 miles
Rest stop. In this area look for Red-Tailed Hawk and Blue Heron hunting the fields. I n winter there may be Tundra Swans, Bald Eagles, Glaucous-winged Gulls, Tough-legged Hawk, Prairie Falcon, Kestrel (year-round).
216 miles
You can exit I-5 here and drive east on State Route 228. Possible winter birds include Cackling Geese, Bald Eagle, Blue Heron, Kestrel.
250 miles
Exit to rest stop at Santiam River Bridge. This is major tributary flowing down from Cascades into the Willamette. Cliff Swallows nest beneath highway overpass. Kestrel hunt here.
252 miles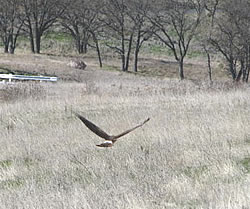 Exit here onto Ankeny Hill Road, then west to Ankeny Wildlife Reserve. In winter you should find thousands of White-fronted Geese, also some Snow Geese possible. Most abundant bird may be Cackling Geese in winter. Ducks in winter: Shoveler, Green-winged Teal, Ruddy Ducks, Bufflehead. Also: Kestrel, Coot, Bewick's Wren, Song Sparrow, Western Meadowlark, Spotted Towhee, Golden-crowned Kinglet. Other birds that winter here: Harrier, Merlin, Rough-legged Hawk, Bald Eagle, American Pipit, Horned Lark, Savannah Sparrow. Ankeny has no visitors' center.
279 miles
Exit I-5 northbound and you will notice on you right (east of freeway) a small wetland downhill from the gas stations and shopping centers. Here I've seen numerous wintering birds: Hooded Merganser, Widgeon, Bufflehead, Shoveler, Green-winged Teal, Coot, Pied-billed Grebe, Great Egret, Blue Heron. In summer the local swallows feed in number. This wetland is part of the Nyberg Creek Greenway. If you want to drive a bit, go west on Tualatin-Sherwood Road here and using a map find your way to Highway 99 West and then north a short distance to Tualatin River National Wildlife Refuge. Variety of march loving ducks in winter.
300 miles
Portland. There are numerous fine birding spots in and around Oregon's largest city. Not far from downtown is the Audubon Sanctuary of 150 acres. Their website describes that and other fine birding locations. Birding Oaks Bottom in Portland you see why the Great Blue Heron is the Portland official city bird. Green Heron, Wood Duck, and wintering ducks may also be seen in this wood-bordered pond. In summer Willow Flycatcher and Bushtit nest here.
302 miles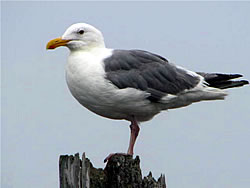 Take Exit 302C onto Highway 30 west to Sauvie's Island. In winter there are Tundra Swans and Sandhill Cranes, White-fronted Geese and raptors. It's about a fifteen minutes drive west from downtown Portland. Gull watching here can be especially challenging: Glaucous-winged and Thayer's may be joined by Western in from the coast and an occasional Glaucous while other western species are always possible. Wintering sparrow flocks may hold an occasional surprise among the White-crowned, Golden-crowned, Fox, Lincoln's and Song. The damp island with its brushy margins and open fields are ideal sparrow habitat.