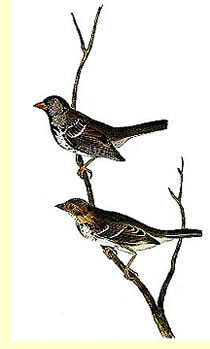 Here are some more men whose names are remembered in part because they were associated with John Audubon, and he chose to commemorate them:
Edward Harris (1799-1863)
Son of a wealthy farmer and exporter, Edward Harris grew up near Philadelphia. He had money, a deep interest in nature and generous spirit-a perfect match for John Audubon. Audubon and Harris met in 1824. Harris immediately became an admirer and supporter of Audubon's art and publication plans. Harris repeatedly bought paintings from his friend, and even insisted Audubon take sizeable gifts of money.
They became close friends. Harris went on two of Audubon's major expeditions: the 1837 trip along the Gulf of Mexico and the 1843 trip up the Missouri River to the Yellowstone. When they were apart the two men kept up a lively correspondence.
On the Missouri River trip Harris shot a specimen of his namesake sparrow. Nuttall and Townsend had first found the sparrow nine years earlier. Nuttall had published a scientific description. Typically, Audubon was oblivious to Nuttall's work. He gave the little sparrow a different Latin and common name. The common name, Harris's Sparrow, stuck.
The species itself was long an elusive nester. The first Harris's Sparrow nest and eggs was finally found by George Sutton, Olin Pettingill and other American ornithologists in the 1930s. It was found in the stunted forests south of Churchill, Manitoba.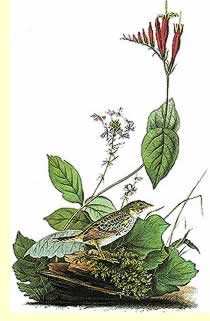 Harris outlived his friend, and loyally sent money to the widowed Lucy Audubon.
John Henslow (1796-1861)
The Henslow's Sparrow is even more elusive than Harris's Sparrow. Harris's is uncommon in the winter in California. Henslow's may be unknown in this state. It is hard to find even on its breeding territory in the east.
Reverend John Henslow was at one time one of the best known scientists in England. He spent many years teaching botany at Cambridge after he gave up the ministry. He and Audubon met in England in 1828. Henslow became a friendly supporter of Audubon's effort to find subscribers to his birds folio.
Henslow made a much more important contribution to science that befriending Audubon. Henslow recommended his former student, Charles Darwin, as naturalist on the voyage of the Beagle. Decades later Henslow presided over the first open debate over Darwin's evolutionary theory before the Royal Society.
Thomas Lincoln (1812-1883)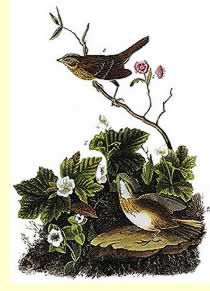 The Lincoln's Sparrow is a regular winter bird in the Bay Area. Many people imagine it was named in honor of President Abe Lincoln. In fact, Audubon named the bird in 1834, in honor of his younger friend, Thomas Lincoln of Dennysville, Maine. Audubon had met young Lincoln before the trip to Labrador in 1833 and thought the youth a natural crew member. He was proven correct— Lincoln was hard-working and brave.
The group reached northern Nova Scotia in late June, there Audubon heard a bird song he did not recognize. He called for his companions, and it was Thomas Lincoln who first located and shot the little songster. It was a new bird that Audubon originally called Tom's Finch. It would be the only new species Audubon found on the trip.
Lincoln returned to Maine where he became a successful farmer, taciturn neighbor and staunch abolitionist. In his later years, Lincoln recalled Audubon as "a nice man, but as Frenchy as thunder." Another member of the Labrador expedition was William Ingalls, and his old-age recollection of Lincoln was "quiet, reserved, sensible, practical and reliable."
Isaac Sprague (1811-1895)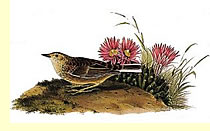 Young Sprague first met Audubon when the older man admired Sprague's bird drawings in 1840. Sprague was invited to join Audubon's expedition up the Missouri River in 1843. On that trip near the mouth of the Yellowstone River Edward Harris and John Bell shot a small brown bird. Audubon realized it was a new species and named it "Sprague's Missouri Lark." Now Sprague's Pipit. Sprague himself laid down his drawing tools a few days later and found his namesake's nest and eggs in a mound of prairie grass.
Some of Sprague's fine drawings were incorporated into Audubon's later publications, without credit. However, Sprague soon became America's best known botanical illustrator of his day. He was chosen to illustrate Asa Gray's classic Botanical Textbook and then his subsequent Flora.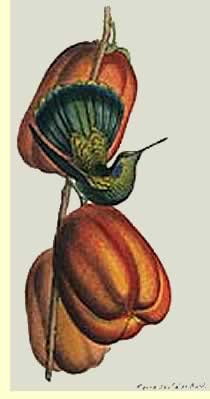 He also knew and worked with Dr. John Torrey (of pine fame) and ornithologist Henry Henshaw, the man who first described and named Allen's Hummingbird. Sprague continued to produce illustrations and paintings for himself and friends until his death.
William Swainson (1789-1855)
The Englishman, William Swainson, was a talented, industrious, strong-willed naturalist and artist. He was self-trained but meticulous. In his later years he was highly critical of Audubon's slipshod scientific descriptions.
However, Audubon and Swainson were friends in the 1830s and traveled to Paris together seeking supporters for their publications and drawings. Even before meeting Audubon Swainson was well-versed in American ornithology. He had traveled to Brazil and collected birds there a decade earlier. He also had access to Mexican birds collected by the Bullock family. Swainson himself first described a number of New World species based on Bullock's specimens. Among California birds Swainson first described and named are: Acorn Woodpecker, Canyon Towhee, Violet-green Swallow, Bullock's Oriole, Dipper, Hooded Oriole and Black Phoebe.
Swainson illustrated a prodigious number of scientific and popular works on nature. His bird drawings are as exciting and realistic as any of Audubon's.
Professing disgust with England, Swainson moved with his family to New Zealand in 1840 and never returned to England, though he spent considerable time in Australia. His final home was near Wellington.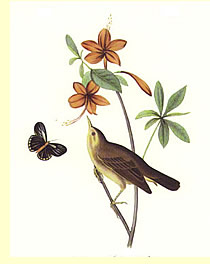 Audubon commemorated Swainson by naming a warbler after him, a warbler given to Audubon by Rev. John Bachman. Later Swainson's Thrush and Swainson's Hawk were named for him as well.
(More Audubon's friends here.)