Four Days in May - Day One
Saturday, May 23, 2009.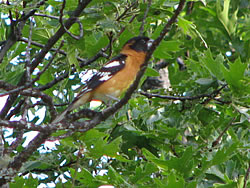 From Ashland we headed east and uphill on Dead Indian Memorial Road. We were climbing up the western slope of the Cascades. We encountered a number of western mountain species. Best and most surprisingly of all: a male Sooty Grouse (formerly "Blue Grouse"). He was high in a dead pine along Shale City Road. And he was thrumming with his expansive air sacks. We got great but distant looks before he finally flew down into the forest where he continued to sound off, invisible to us. This is a shy bird and the first I'd seen in Oregon.
Black-headed Grosbeak (right) song seemed to follow us nearly everywhere, silenced only by the flat wet meadows of Klamath Marsh. Bullock's Orioles (below left ) in the riparian forest. Western Tanager (below right) in mixed woodlands.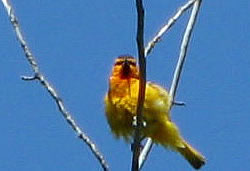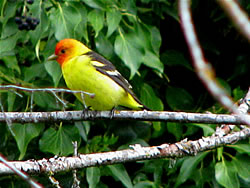 Western Meadowlark (below left) singing, mostly from unseen bowers beneath the tall spring grasses. Turkey Vultures, circling, watching, waiting. Time is always on the side of the vulture.
About three miles up Shale City Road from Dead Indian Memorial Road, we reached Willow Witt Ranch. There the sustainable agricultural practices and the oft-filled bird feeders have produced a near-paradise for the birds. Like this fearless male Purple Finch, (below right ).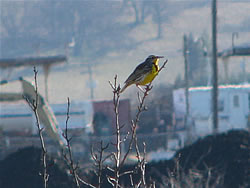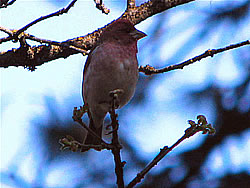 There were at least three House Wrens (below left ) nesting in the boxes in the ranch yard. And their repeated, energetic songs were constant. The sound-track along with the Grosbeaks, of course, to our ranch visit that Saturday morning.
Here (below right ) is an adult male Purple Finch feeding greedy youngster who apparently has yet learned to simply go to the nearby seed feeders on his own. Or perhaps the finch adults are still catching protein-rich insects for their fledglings.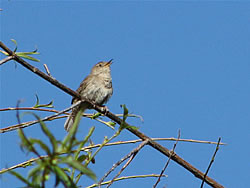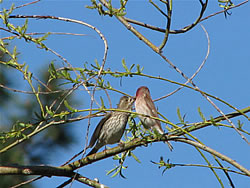 It should be taken as a fine gift when any Tree Swallow male (below left ) turns his back on you in bright sunlight. This fellow gave us long, alluring over-the-shoulder glances from his shed-top perch in the ranch yard. What female Tree Swallow could resist such feathered brilliance? Also in the yard, a bold Mountain Chickadee (below right).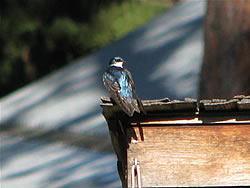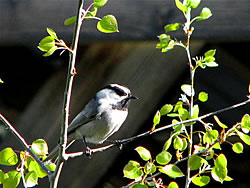 Another mountain bird, the quail, naturally could be heard calling. But could not, of course, be seen. Even the Willow Witt folks often hear, seldom view, their neighboring quail. The ranch includes a restored spring-wetted meadow and evergreen forests at 4600 feet. In the winter, they must often snowshoe to the nearest plowed road.
A Saturday Afternoon of birding: May 23, 2009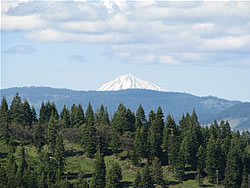 Afternoon of the first day on Golden Gate Audubon's trip to the Ashland area. Looking across Howard Prairie, and Howard Prairie Lake to snow-topped Mt. McLaughlin in the Cascades (left). Howard Prairie is about 4500 feet high, McLaughlin more than double that. It's the southernmost active volcano in Oregon. We lunched at th